Related Topics
Join us as we chat with Hyr0n and Zapp from AND!XOR Group about their iconic badges for DEF CON 31.
Hyr0n of the AND!XOR group joins the podcast this week to discuss the DEFCON 30 Hacker Smart Watch and what we can look forward to next year.
Right to Repair is going global and Stephen might have solved his injection molded component's void by tweaking the mold design.
Other Resources
May 26, 2017, Episode #69
Zapp and HyR0n of AND!XOR talk about #BadgeLife and Defcon.
HyR0n

Mathematician, Computer Scientist, & Systems Engineer making the world a better place with homebrew booze and electronic bling.

Zapp

Has been writing software since age 8. Eventually making a career in developing for Java systems. He has since been promoted away from they keyboard and his life is now MS Office and meetings.
Didn't know how to solder before DC23 .
Arduino was his gateway drug – all 15 projects of the starter kit in a few days.

Defcon Badges

Official badge has a deep puzzle – other badges filled with goo and mechanical.
Becomes part of the culture.
And!xor – is unique – most people are hacking badges. There are many ways to hack their badges. Ways to hack between badges.

Defcon 25

Hack everything from cryptography, cars, voting machines, bluetooth, lock picking villages, people will teach you if you're willing to learn. Social engineering is a big village
Villages – way bigger than booths 2,000 square feet each, have their own badges, demos, hands on events, IoT village
20K – 30K people attend
Defcon for newbies – don't bring a phone, no wireless, bluetooth, no photos. Just go, have fun and learn. Cash only.

New Defcon Badge

Specs

Shout out to Rigado BMD-300 SoC

Based on the Nordic NRF52 BLE SoC
ARM Cortex M4F
512kb flash
64kb rom

15 x WS2812B LEDs
5 buttons
Tilt switch
LED used for ambient light sensing
Standard SWD 10-pin mini header
Exposed GPIO
MicroSD w/ 2GB card included
128×128 16-bit color display (ST7735)

Has a Chip-8 emulator
Can run Tclish scripting code
Has built in games like Ski Free where Man Bear Pig chases you
BOM and Gerbers might be open after Defcon.

Bender has a 6502 as a brain/cpu
Hack defcon with beer – bring your own bottled corona, so you don't have to spend $9 / bottle

Hacking aka counterfeiting?

The MacroFab Meetup in Houston is next week!
About the Hosts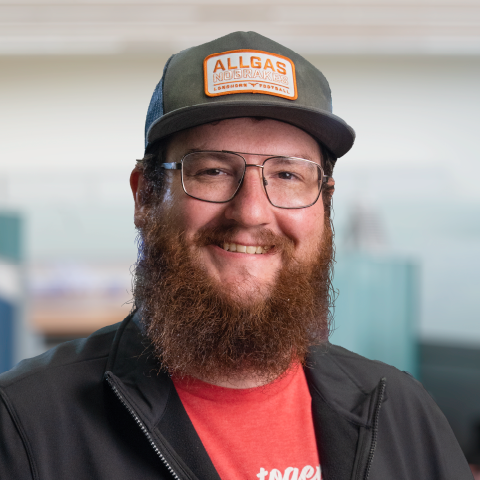 Parker Dillmann
Parker is an Electrical Engineer with backgrounds in Embedded System Design and Digital Signal Processing. He got his start in 2005 by hacking Nintendo consoles into portable gaming units. The following year he designed and produced an Atari 2600 video mod to allow the Atari to display a crisp, RF fuzz free picture on newer TVs. Over a thousand Atari video mods where produced by Parker from 2006 to 2011 and the mod is still made by other enthusiasts in the Atari community.
In 2006, Parker enrolled at The University of Texas at Austin as a Petroleum Engineer. After realizing electronics was his passion he switched majors in 2007 to Electrical and Computer Engineering. Following his previous background in making the Atari 2600 video mod, Parker decided to take more board layout classes and circuit design classes. Other areas of study include robotics, microcontroller theory and design, FPGA development with VHDL and Verilog, and image and signal processing with DSPs. In 2010, Parker won a Ti sponsored Launchpad programming and design contest that was held by the IEEE CS chapter at the University. Parker graduated with a BS in Electrical and Computer Engineering in the Spring of 2012.
In the Summer of 2012, Parker was hired on as an Electrical Engineer at Dynamic Perception to design and prototype new electronic products. Here, Parker learned about full product development cycles and honed his board layout skills. Seeing the difficulties in managing operations and FCC/CE compliance testing, Parker thought there had to be a better way for small electronic companies to get their product out in customer's hands.
Parker also runs the blog, longhornengineer.com, where he posts his personal projects, technical guides, and appnotes about board layout design and components.
Stephen Kraig
Stephen Kraig began his electronics career by building musical oriented circuits in 2003. Stephen is an avid guitar player and, in his down time, manufactures audio electronics including guitar amplifiers, pedals, and pro audio gear. Stephen graduated with a BS in Electrical Engineering from Texas A&M University.
Special thanks to whixr over at Tymkrs for the intro and outro!