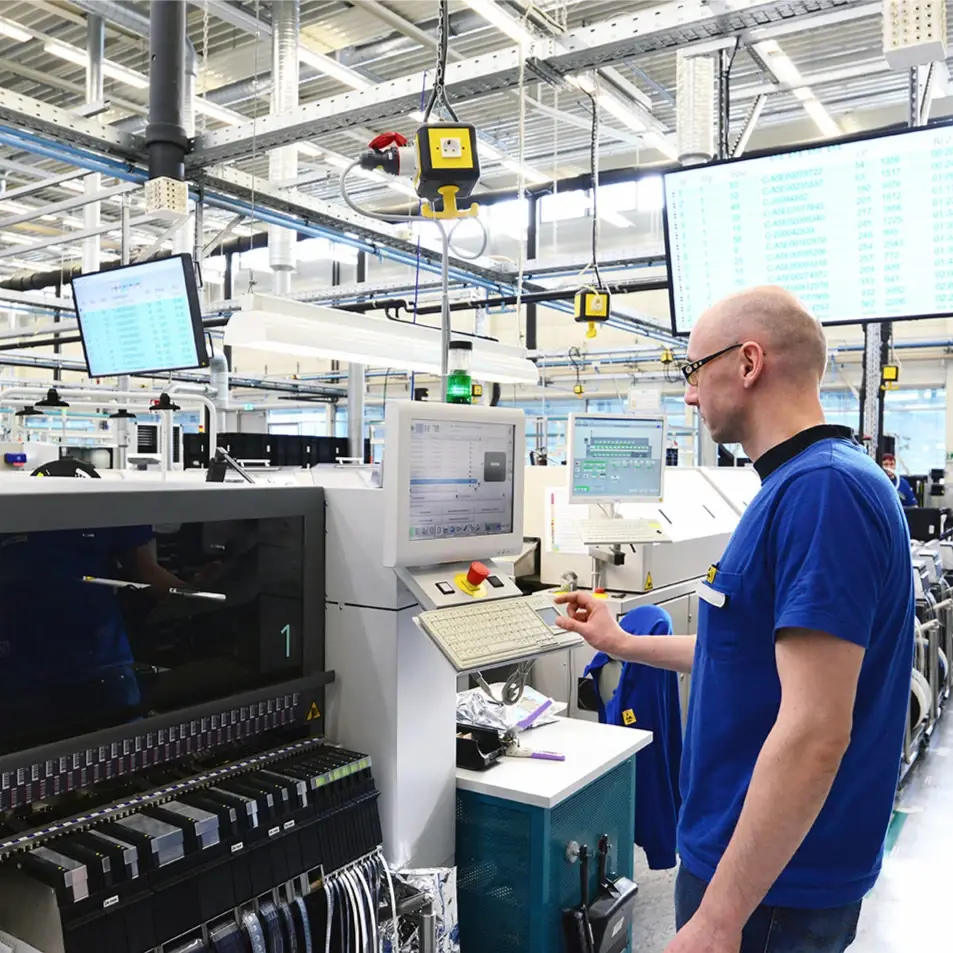 Unparalleled Support for
Enterprise OEMs
Don't let today's obstacles hold you back.
Elevate your product vision with the unparalleled excellence of a top-tier electronics manufacturing partner.
Reshoring, Nearshoring, and Localizing Your Supply Chain
Partner with MacroFab to optimize your manufacturing operations, leveraging our extensive partner network for nearshoring, reshoring, and localizing.
Partnering with MacroFab can help you optimize your manufacturing operations and take your business to the next level. Our extensive partner network allows us to offer a wide range of manufacturing solutions, including nearshoring, reshoring, and localizing your manufacturing and supply chain to North America. With our help, you can access the right resources and expertise to bring your products to market quickly and efficiently.
In addition to our manufacturing services, we also offer a range of comprehensive solutions to support your business needs. Our new product introduction services help you bring new products to market smoothly and efficiently. We also offer procurement services, allowing you to source the right materials and components at the best price.
Our warehousing and third-party logistics services help you streamline your operations and reduce overhead costs. With our help, you can store your products in our secure facilities and rely on our experienced logistics team to manage your shipments and deliveries.
At MacroFab, we understand that managing suppliers and sourcing materials can be a time-consuming and complex process. That's why we offer comprehensive sourcing and supplier management services, enabling you to focus on your core business objectives while we take care of the rest.
Partnering with us means that you can stay agile and competitive while streamlining your operations and driving growth. With our extensive range of services and solutions, you can rely on us to help you achieve your business goals and take your operations to the next level.
A Broad Range of Flexible, Scalable Manufacturing Capabilities
Our network of over 100 North American manufacturing partners offers agility and near-limitless capacity across diverse capabilities to bring your big ideas to life.
At MacroFab, we pride ourselves on our extensive network of over 100 North American electronics manufacturing partners. This expansive network enables us to offer unparalleled agility and virtually limitless capacity, catering to the diverse capabilities required to bring your most ambitious ideas to life. Our cutting-edge facilities are equipped to handle projects of any size and complexity, ensuring you receive the highquality products you deserve.
Our proactive approach to identifying gaps and process issues early in the production cycle sets us apart from the competition. By addressing these potential problems, we prevent late-stage issues from arising, streamlining the entire manufacturing process. Our team of experts constantly monitors and evaluates each stage of production, ensuring that every aspect of your project adheres to the highest standards of quality and efficiency.
In addition to our rigorous monitoring procedures, we employ state-of-the-art technology and advanced techniques to optimize our production processes. This allows us to deliver exceptional results while consistently maintaining a rapid turnaround time. We understand that time is essential, so we are committed to getting your product to market as quickly as possible.
Our unwavering commitment to customer satisfaction drives us to exceed expectations in every aspect of our operations. From the initial design and prototyping stages to final assembly and quality control, our expert team works tirelessly to ensure your product meets your specifications. We are dedicated to providing unparalleled service and support throughout the entire lifecycle of your project.
World-Class Team for Unmatched Support
Our team of New Product Engineers, Program Managers, PCB Data Engineers, Test Engineers, and our leading Customer Success Team is dedicated to ensuring the highest level of service for Enterprise OEMs.
At MacroFab, we are immensely proud of the comprehensive support system we have designed for our customers. Our unwavering commitment to excellence enables us to rival even the largest Tier 1 contract manufacturers, such as Foxconn. Our foundation is built on a robust and customer-centric approach, allowing us to become a trusted partner for Enterprise OEMs worldwide.
Our highly skilled team of New Product Engineers plays a crucial role in our support system. Their expertise and dedication ensure the seamless development and launch of new products while maintaining the highest quality standards. With their extensive experience and commitment to innovation, they work with our clients, turning their visions into reality.
Our Program Managers form the backbone of our operations, providing unparalleled support throughout the entire project lifecycle. Their strong communication and organizational skills guarantee efficient coordination of resources and personnel, ensuring that projects are executed on time and within budget. This management expertise fosters an environment where our clients feel confident in our ability to handle even the most complex projects.
Our PCB Data Engineers play a vital role in the success of our client's projects. Their technical proficiency allows them to create and optimize printed circuit board layouts and data for manufacturing. Working closely with our clients ensures that designs are fully optimized for cost, manufacturability, and performance. This dedication to precision and accuracy helps our clients bring their products to market faster and with greater confidence.
Our Test Engineers are instrumental in ensuring the highest quality of our client's products. They develop and implement robust testing strategies to guarantee that every product meets the most stringent quality and performance standards. Working closely with the New Product Engineers and PCB Data Engineers ensures that every product leaving our facilities is nothing short of perfect.
With MacroFab Enterprise service, leverage priority white glove service from a dedicated team of engineers and specialists who will proactively identify issues and work hands-on with your team to ensure your satisfaction and success. Your MacroFab team is deeply committed to delivering unparalleled service, providing individualized support and a wide range of services, ready and available whenever you need.
Support for Your PLM Framework
MacroFab offers instant, extensive capacity for rapid prototyping and large-scale production, catering to any PLM framework. Rely on our flexibility, quality, and availability, trusted by various industries.
MacroFab is revolutionizing manufacturing by providing instant, extensive capacity for rapid prototyping and large-scale production. Our state-of-the-art facilities and advanced technology enable us to deliver seamless, high-quality manufacturing solutions that cater to any Product Lifecycle Management (PLM) framework. We take pride in our ability to meet the evolving needs of businesses across various industries, ensuring that you can rely on us as a strategic partner for all your manufacturing requirements.
Our flexibility distinguishes us in the industry. At MacroFab, we understand that every project has unique requirements and are committed to providing tailored solutions. Whether you need a small-scale prototype or a full-scale production run, our skilled engineers and technicians work closely with you to develop the most efficient and cost-effective manufacturing plan. As your innovation partner, we are dedicated to helping you bring your products to market faster and more efficiently.
Quality is at the heart of everything we do at MacroFab. Our stringent quality assurance processes ensure every product we produce meets the highest standards in the industry. Our certified facilities undergo regular audits and inspections, allowing us to maintain our commitment to excellence. Furthermore, we invest in cutting-edge technology and continuous training for our staff to ensure we stay at the forefront of the latest manufacturing techniques and best practices.
Availability is another critical aspect of our service offering. We're committed to providing our clients with reliable access to our vast manufacturing capabilities. Our sophisticated planning and scheduling systems ensure optimal production levels, minimizing downtime and guaranteeing timely, budget-compliant project completion. Our global network of suppliers and logistics partners guarantees that we can source materials and components efficiently and expediently, further enhancing our ability to meet your deadlines.
Trusted by various industries, MacroFab has built a solid reputation as the go-to partner for manufacturing excellence.
A Holistic Approach to Electronics Manufacturing Services
What do we mean by holistic approach? A holistic approach is one which considers each and every required stage of production, from design to fulfillment, and takes into account future process requirements as soon as possible to prevent re-work and production regression or delays. To support this holistic approach in electronics manufacturing, we've identified and strengthened the crucial areas involved in transitioning an electronics product from concept to the customer's hands:
PCB Prototype
Design For Manufacturing
PCB Low to High Volume Assembly
Enclosure Design/Production
Box Build Assembly
Regulatory Approval
Product Packaging
Warehousing and Fulfillment
Return and Warranty Management
The Intellectual Property Protection You Need
Enterprise OEMs are concerned about losing control of their design to contract manufacturers. According to an article by EE Times, OEMs fear CMs will coerce them into divulging sensitive design data, supply chain information, and their manufacturing formulas.
At MacroFab, we understand the immense importance of safeguarding your valuable design IP, and we're committed to providing you with a secure environment that fosters trust and confidence. Our state-of-the-art technology platform is meticulously designed to prioritize security and confidentiality at every stage, from login to file upload to PCBA manufacture.
Experience Unwavering Protection for Your Design IP with MacroFab:
Streamlined File Management and Anonymization

When you choose MacroFab, we strategically match your design with the best manufacturing partner in our network for your project. Your data is only accessible by the assigned partner. Moreover, we meticulously remove any identifiable information from PCBA design drawings, adding an extra layer of anonymity and protection.

Rigorous Partner Vetting and Management

Our manufacturing partners undergo rigorous vetting and are continually monitored for compliance. We conduct a thorough onboarding process, auditing their facilities, quality management systems, and IP management practices. By signing strict NDAs, our partners act as legal extensions of MacroFab, further safeguarding your valuable IP.

Customizable NDAs for Enhanced Peace of Mind

We recognize that every client has unique requirements, and we're prepared to accommodate them. We offer a mutual NDA for you to sign or are happy to collaborate with you in signing your organization's proprietary NDA.
Why Enterprise Customers Choose MacroFab
Dedicated Account Management
offering one-on-one support and guidance throughout your entire
project lifecycle.
Customized Engineering Support
including DFM analysis, component selection, and assembly optimization to ensure the best results.
Transparent Communication and Reporting
updating you regularly on project status, production milestones, and potential bottlenecks before they happen.
After-Sales Support and Services
with every product backed by MacroFab's one-year Quality Guarantee
Elevate Your Manufacturing Experience with MacroFab
Don't settle for traditional contract manufacturing support. Experience the exceptional level of expertise and resources MacroFab provides for Enterprise OEMs