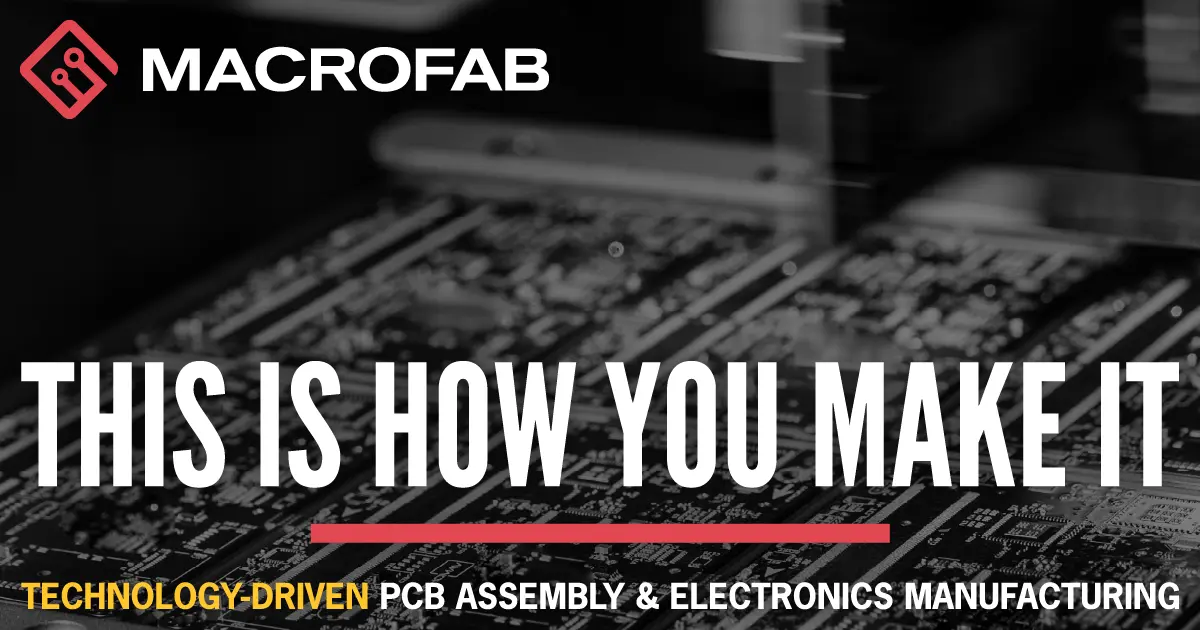 Reshoring is Easier Than You Think
Get instant access to an extensive network of trusted manufacturing partners without the hassle of back-and-forth vetting and negotiations.
In the electronics industry, moving production is a long and challenging process, which includes assessing capabilities and signing new contracts. Companies often hesitate to leave overseas manufacturing partnerships, even when they have a bad relationship, due to the risks and time involved. With MacroFab, moving production home has never been easier.
Accelerate Your Reshoring Transition
With MacroFab, you can bypass the normal risk and time that comes with reshoring and develop a local reliable manufacturing team quickly. MacroFab offers access to a large pre-vetted factory network with
Ease of scaling production

Our factory network is designed to help you scale production quickly and easily without worrying about finding the right suppliers or managing multiple vendors. With our platform, you can seamlessly connect with the best manufacturers for your needs and streamline your operations, reducing lead times and improving quality.

Expertise in electronics manufacturing

We deeply understand electronics manufacturing and can help you navigate the industry's complexities. Our team of experts can assist you at every step of the process, from design and prototyping to testing and production.

Competitive pricing and cost savings

By working with our factory network, you can access competitive pricing and cost savings that would be difficult to achieve on your own. We leverage our expertise and relationships with manufacturers to negotiate favorable rates and pass those savings on to you.

Fast turnaround times

We can deliver your products faster with our streamlined production processes and advanced technologies. Our platform allows you to monitor progress in real-time and make adjustments on the fly, so you can meet your deadlines and stay ahead of the competition.

Robust quality control

We take quality seriously at MacroFab and have rigorous quality control processes to ensure that every product meets your specifications. We also offer a range of testing and inspection services to catch any issues before they become problems.
With MacroFab, you get the freedom to leverage multiple production locations and reduce dependence on a single supplier or location.
This means that you can maintain delivery schedules and avoid disruptions even in the face of unexpected uncertainties.
And with us as your manufacturing partner, your core production contact team remains the same, no matter how much your production grows within our factory network.
Now is the perfect time to move some or all of your production out of Asia, stay ahead of the competition,
and stake your claim closer to home.
Why Customers Choose MacroFab
Cost Savings
With MacroFab's platform, you can save money on low-volume PCB assembly by leveraging their economies of scale. MacroFab's platform allows you to order small quantities of PCBs at competitive prices without sacrificing quality or reliability.
Flexible, Customizable Manufacturing Platform
MacroFab's platform is highly flexible, allowing engineers to customize their orders to meet specific requirements. Engineers have complete control over their orders, from selecting components to specifying assembly techniques.
Fast PCB Quotes
With MacroFab's platform, engineers can quickly and easily upload their designs and receive a quote in just a few minutes. Orders are processed quickly, with most shipping within 7-10 days.
Quality Assurance
MacroFab's platform is designed to provide high-quality PCB assembly services that meet the highest industry standards. The platform's automated testing and inspection processes ensure that your PCBs are defect-free and meet your exact specifications.