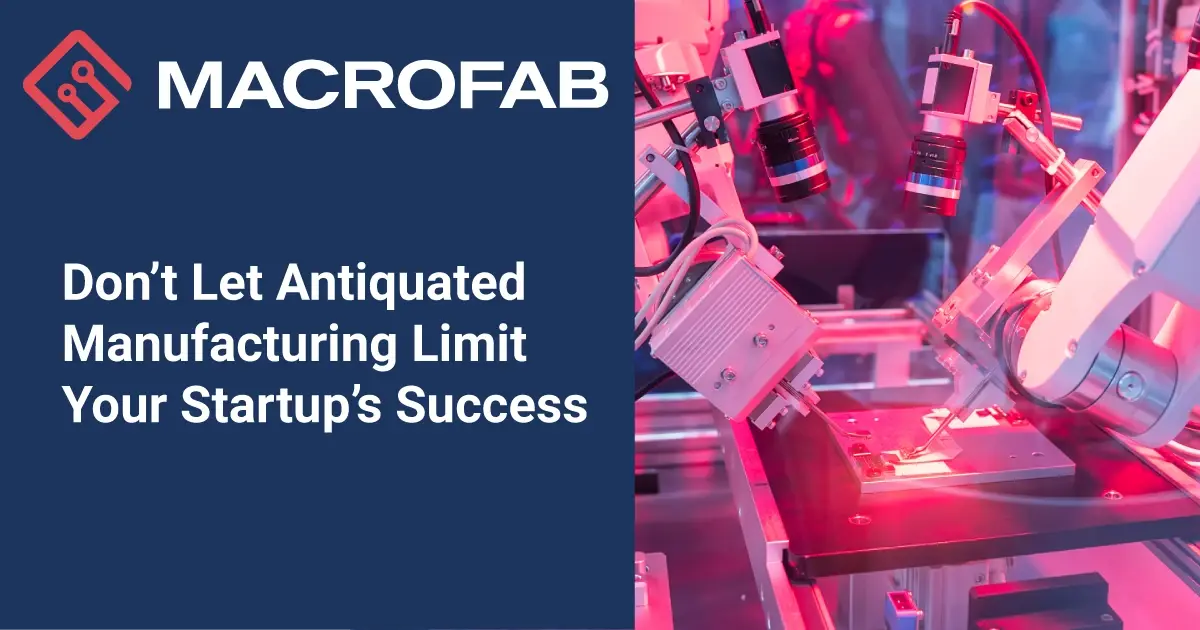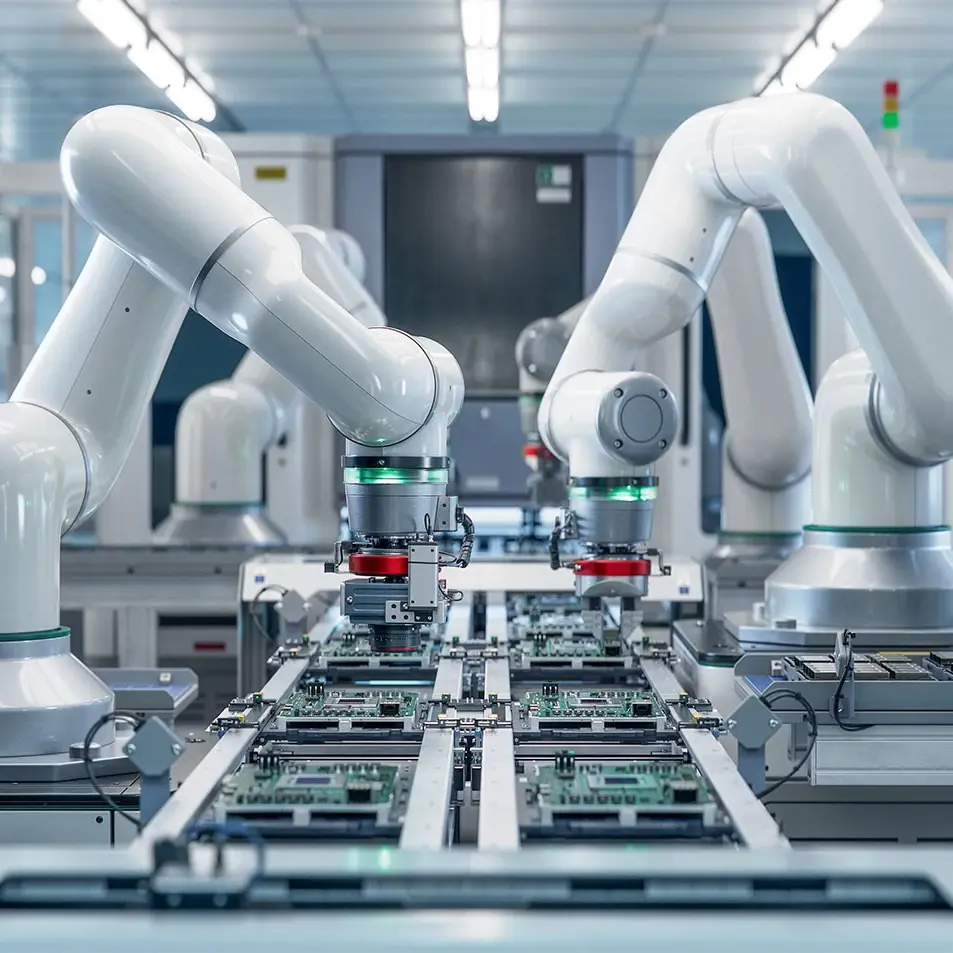 Don't Let Antiquated Manufacturing Limit Your Startup's Success
MacroFab empowers electronics startups to overcome challenges and achieve their goals faster
Challenges for Hardware Startups
Hardware has always been a challenging area for companies of all sizes. Developing a new product is inherently expensive, time-consuming, and high-risk. These challenges are inflated for hardware startups who don't have the size, experience, or capital to negotiate, invest or absorb a loss. Manufacturing becomes an especially notable challenge for these startups.
PCBA (Printed Circuit Board Assembly) manufacturing has traditionally been dominated by large Original Equipment Manufacturers (OEMs) that can commit to substantial production volumes. This means prototyping, testing, and small-batch runs have often been financially penalized as they have been considered not worth the effort. Or the costs are simply just too high as minimum orders exceed what's viable for a small business.
However, many of these challenges are now being addressed by modern technologies that reduce risk, offer tools as a service, and eliminate investment barriers.
Next-Gen Electronics Manufacturing Support for Startups
Breaking the Supply Chain Barrier
MacroFab's technology manufacturing platform enables companies with few resources and smaller production scales to access high-quality manufacturing services
MacroFab's technology manufacturing platform is a game-changer for small businesses and startups who want to bring their ideas to life without the hassle and expense of setting up their own manufacturing facilities. Through the platform, these companies can access high-quality manufacturing services that were previously only available to larger corporations with bigger budgets. With MacroFab, businesses can easily upload their designs, select the materials and specifications they need, and have their products manufactured quickly and efficiently.
The benefits of MacroFab's technology manufacturing platform go beyond just cost savings. The platform also offers a high level of flexibility and customization, allowing companies to adjust their production runs to meet demand and make changes to their designs as needed. Additionally, the platform provides real-time visibility into the manufacturing process, giving businesses greater control and transparency over their supply chain.
Overall, MacroFab's manufacturing solution is a game-changer for small businesses and startups looking to get their products to market quickly and efficiently. By providing access to high-quality manufacturing services at an affordable price point, MacroFab is helping to level the playing field and enable innovation for all.
Accelerate Your Product Development Cycle
MacroFab's rapid prototyping and short-run production capabilities allow you to iterate quickly, ensuring your product is perfect before hitting the market.
Unlike software that can be released into the world - experience bugs and be updated and improved - any issues with a hardware product are an expensive and possible reputation-costing mistake.
Any electronic hardware product must undergo a comprehensive engineering validation process from a simple toy to a complex head-mounted display. This can be an intimidating, complex, and costly process that requires external partners and long lead times for startups. MacroFab's manufacturing platform mitigates this by providing tools and support to work through the engineering validation test, the engineering validation test, the production validation test, and the mass production cycle to ensure that designs are the best they can be before any total production.
Overall, MacroFab's rapid prototyping and short and long run production capabilities provide businesses with the flexibility and agility they need to iterate quickly and ensure their product is perfect before hitting the market. By enabling businesses to test and refine their designs early in the process, MacroFab is helping to reduce the risk of costly mistakes and improve the chances of success in the highly competitive world of product development.
Receive Expert Guidance and Support
Our team of engineers and manufacturing experts is here to support you every step of the way.
Navigating the world of hardware manufacturing can be an arduous journey, filled with complexities and challenges that can be overwhelming for even the most experienced designers and entrepreneurs. This is where the MacroFab team comes into play. Composed of seasoned engineers and manufacturing experts, we stand by your side throughout your journey, providing support and guidance at every stage of your hardware manufacturing project.
We begin by assisting you in the crucial phase of design optimization. This step is vital as it can significantly impact the efficiency and cost effectiveness of your product. Our team will meticulously review your design, applying years of experience and technical knowledge to identify potential improvements. This could mean suggesting changes that can make your product easier to manufacture, enhancing its functionality, or even reducing production costs without compromising on quality.
Our commitment extends beyond just design optimization for. We also provide guidance in prototyping, testing, assembly methods, quality control, and even help in planning and implementing your product's mass production. With our team at your side, we ensure that you make the best decisions regarding production quantities, schedules, and supply chain management.
At MacroFab, we understand that the success of your product is our success. We strive to foster a collaborative environment where your ideas are valued, and your vision is realized. With our extensive experience, cutting-edge technology, and a relentless commitment to your project's success, we aim to maximize the potential of your product in the competitive hardware market.
Full Spectrum of Services
MacroFab factories offer a full spectrum of services, from conformal coating and program & test, to mechanical assembly and supply chain management.
Once your design has been optimized and is ready to hit the production lines, MacroFab is equipped to handle orders of any quantity, ensuring your product is manufactured at globally competitive prices. But our commitment to your product's success extends beyond just manufacturing; we offer a comprehensive range of services that cater to every aspect of the production process.
One of these services includes conformal coating. This involves applying a protective chemical coating to electronic circuitry to guard against environmental factors such as moisture, dust, chemicals, and temperature extremes. Programming and testing are other critical services we offer. After your product has been manufactured, our team of experts will program it according to your specifications, ensuring that it functions as designed.
We specialize in full box builds, delivering turnkey solutions to our clients. This service includes everything from assembling printed circuit boards (PCBs) and installing them into enclosures, to attaching necessary cables or accessories, and even packaging the final product in its retail packaging. This means that you receive a product that is ready for distribution and sale right off the manufacturing line.
Finally, MacroFab also provides supply chain management services. We understand that managing the flow of goods from suppliers to customers can be a complex process, particularly when operating on a global scale. Our team will oversee your product's journey from the factory to the customer, managing relationships with suppliers, coordinating logistics, and ensuring that your product is delivered on time and within budget.
At MacroFab, we're not just a manufacturing partner - we're a complete solution for your hardware manufacturing needs. Our comprehensive suite of services, coupled with our commitment to quality and efficiency, ensures that we're prepared to support you in bringing your product to market successfully.
Reinvesting Manufacturing Output Into Talent
At the end of the day, a hardware team is only as good as its players. Many teams trying to innovate within small HR budgets must maintain a balance between investing in skills and being financially viable. By removing the need for startups to have manufacturing expertise as part of their core team, MacroFab assists in this challenge. It used to be that many teams had dedicated manufacturing members who spent hours searching for manufacturing partners, confirming pricing, and vetting them for quality. As a MacroFab client, all of those things are managed through a single point of contact. This frees up capital to invest in more central skills such as product design, electrical engineering, and marketing.
MacroFab is here to help you navigate manufacturing hurdles effectively. We offer:
PCB Low to High Volume Assembly
Design For Manufacturing
Box-build Assembly
Regulatory Approval
Guaranteed Quality
Product Packaging
Warehousing and Fulfillment
Return and Warranty Management
Ready to Launch Your Hardware Startup With MacroFab?
Don't wait another minute. Click the button below to get started with MacroFab and discover why hardware startups worldwide trust us as their manufacturing partner. Together, we'll turn your vision into reality.
Advanced Prototyping Capabilities

Leverage MacroFab's state-of-the-art prototyping tools and technologies to rapidly iterate and refine your product design, reducing time to market and ensuring your competitive edge.

Supply Chain Optimization

Benefit from MacroFab's deep industry connections and extensive experience in supply chain management. Our team will streamline your supply chain to ensure efficient sourcing, timely component delivery, and cost-effective production. Outsource these jobs to us and see your overall costs decrease as your efficiency soars.

Data-Driven Insights

Harness the power of MacroFab's AI-platform to gain valuable data-driven insights into your manufacturing processes. By analyzing production data, you can identify areas for improvement, optimize efficiency, and drive continuous innovation to grow faster.

Exceptional Quality Assurance

Rest easy knowing that MacroFab maintains rigorous quality control measures to ensure the highest standards of product quality and reliability. Our commitment to excellence guarantees that your product will meet or exceed expectations, so you can reap the benefits of greater customer satisfaction, higher profitability, and increasing brand loyalty.
Competitive Pricing
MacroFab's AI-driven price algorithm ensures clients receive accurate and transparent quotes.
Customized Engineering Support
Including DFM analysis, component selection, and assembly optimization to ensure the best results.
Rapid Prototyping and Scaling
Bring products to market faster and respond to changing demands more efficiently.
Comprehensive Quality Assurance
Every product is backed by MacroFab's one-year Quality Guarantee
Elevate Your Manufacturing Experience
With MacroFab, your startup will thrive. Our comprehensive services and North American factory network empower you to overcome manufacturing challenges and achieve your goals. Don't let antiquated manufacturing limit your startup's success.