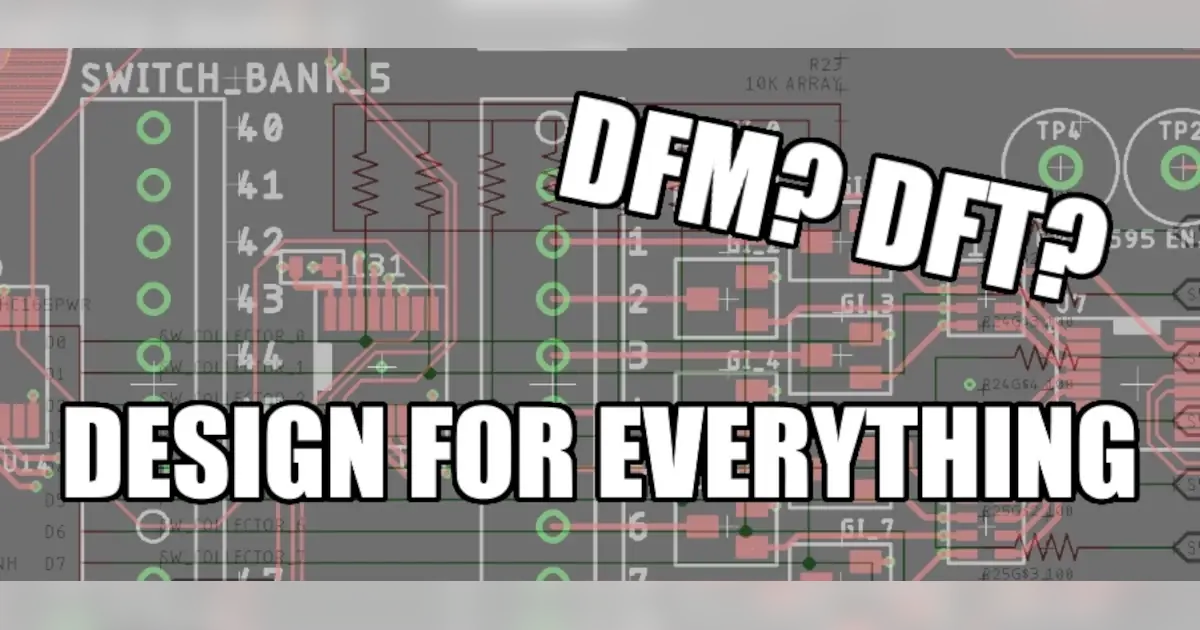 Related Topics
This week we are talking about Breadboards. Is breadboarding a circuit or design still applicable in today's SMT component dominated world?
What lore have you discovered in component datasheets? On this episode, Parker talks about how he picks electrical components and risk management.
Ever have PCBs that solder just will not wet and solder to? You probably thought it was improper soldering technique but that was probably not it!
Other Resources
September 22, 2021, Episode #295
DFM, DFT, DFA? What does it all mean to product designers and engineers? Stephen and Parker cover what Designing For really means.
The DFs
DFA – Design for Assembly
DFC – Design for Conservation
DFD – Design for Documentation 
DFM – Design for Manufacturing
DFP – Design for Production
DFR – Design for Repair / Recycle
DFT – Design for Test
DFS – Design for Safety
How to DFX
Identify what you are Designing For

Perhaps list them based on priority
Make a list of all of the items
Make a timeline for which DF applies when in the product life

Create a list of key design criteria

This will vary based on where the product is in the design cycle

Schedule specific focused time to have a team review the DF

Have the main designer present, but it is best to have other perform the DF checks

Have a sign off and circle back process

If it passes then have the team sign off and move to the next stage
If it fails, have a process of fixing and asses if another full DF meeting is needed
Perhaps just a small DF meeting to address one thing

At then end of the product design cycle you will have a folder of completed design checks that help validate the release of the product
DFA vs DFM vs DFP
Techniques for making revisions easier
Put circuits that you know need adjustment where you can reach them with a soldering iron or a probe
0 ohm resistors

Make for very easy configuration changes

DNI/DNP – lots of people don't know this is a thing
Multiple footprints
Parallel components
Room for soldering!
Test points – different from component terminations
Keep lists of things to remove for production
About the Hosts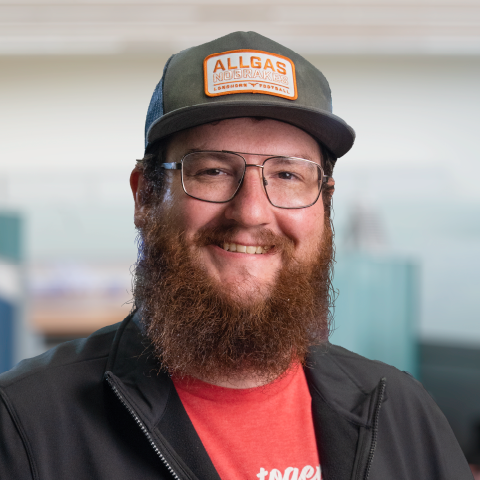 Parker Dillmann
Parker is an Electrical Engineer with backgrounds in Embedded System Design and Digital Signal Processing. He got his start in 2005 by hacking Nintendo consoles into portable gaming units. The following year he designed and produced an Atari 2600 video mod to allow the Atari to display a crisp, RF fuzz free picture on newer TVs. Over a thousand Atari video mods where produced by Parker from 2006 to 2011 and the mod is still made by other enthusiasts in the Atari community.
In 2006, Parker enrolled at The University of Texas at Austin as a Petroleum Engineer. After realizing electronics was his passion he switched majors in 2007 to Electrical and Computer Engineering. Following his previous background in making the Atari 2600 video mod, Parker decided to take more board layout classes and circuit design classes. Other areas of study include robotics, microcontroller theory and design, FPGA development with VHDL and Verilog, and image and signal processing with DSPs. In 2010, Parker won a Ti sponsored Launchpad programming and design contest that was held by the IEEE CS chapter at the University. Parker graduated with a BS in Electrical and Computer Engineering in the Spring of 2012.
In the Summer of 2012, Parker was hired on as an Electrical Engineer at Dynamic Perception to design and prototype new electronic products. Here, Parker learned about full product development cycles and honed his board layout skills. Seeing the difficulties in managing operations and FCC/CE compliance testing, Parker thought there had to be a better way for small electronic companies to get their product out in customer's hands.
Parker also runs the blog, longhornengineer.com, where he posts his personal projects, technical guides, and appnotes about board layout design and components.
Stephen Kraig
Stephen Kraig began his electronics career by building musical oriented circuits in 2003. Stephen is an avid guitar player and, in his down time, manufactures audio electronics including guitar amplifiers, pedals, and pro audio gear. Stephen graduated with a BS in Electrical Engineering from Texas A&M University.
Special thanks to whixr over at Tymkrs for the intro and outro!