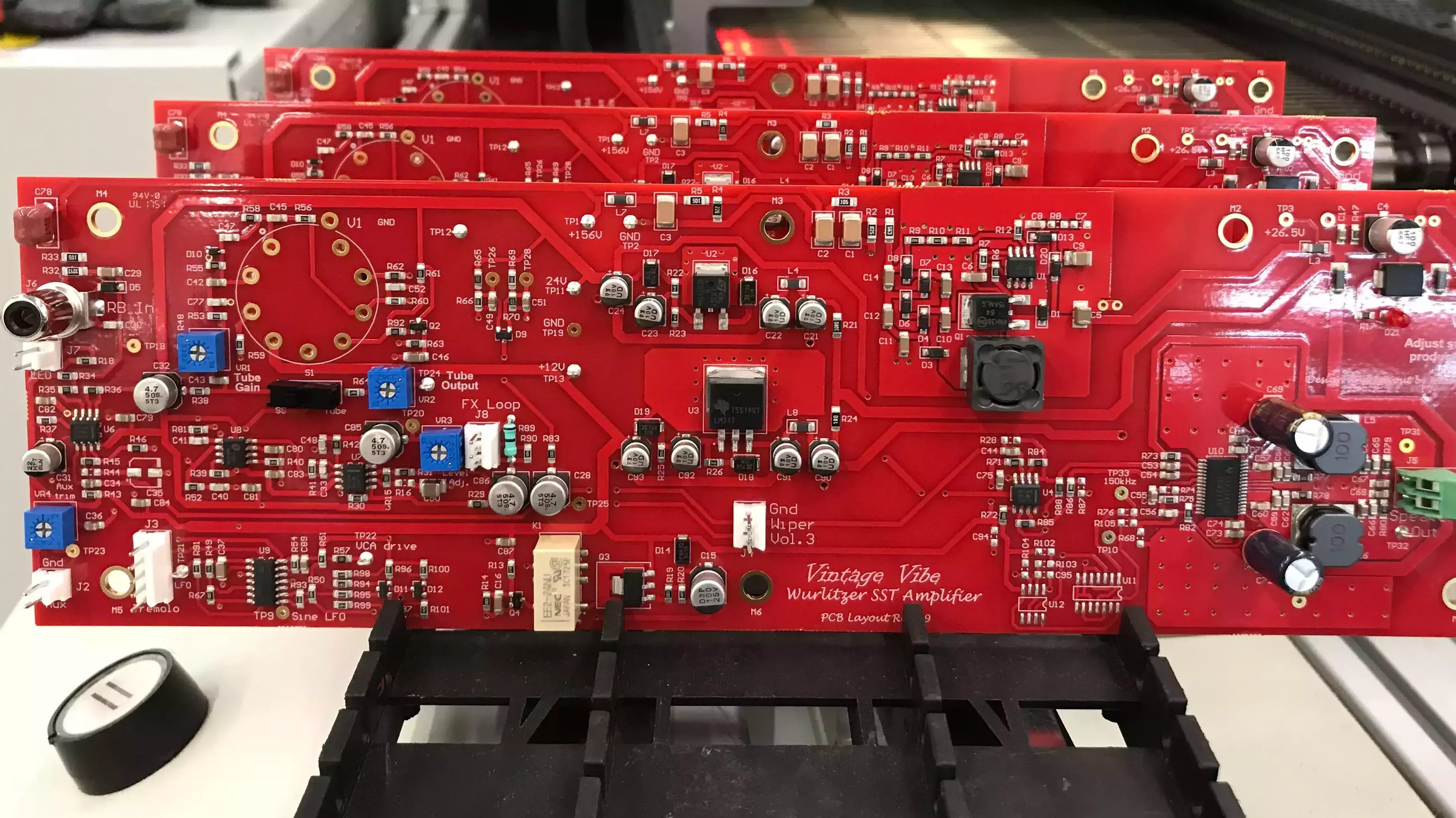 The Wurlitzer SST Piano Amplifier PCB is a dual preamp and 40 watt power amp for Wurlitzer 200 series keyboards.
It was designed by Kevin Beller forVintage Vibe, a company in New Jersey making custom electronics and upgraded parts for vintage keyboards like Fender Rhodes, Hohner Clavinet and Wurlitzer pianos. They also manufacture several of their own designs based on select models of the aforementioned manufacturers.
There are several interesting features to this preamp:
The power supply consists of 4 different voltages; the 27V input from an external fly-back converter is used directly for the power amp stage and then regulated down to 24V and 12V for the preamp stages. It is also boosted to 200V using an ON Semiconductor CS5171. This high voltage biases the reed bar on the piano, which is a capacitive-type sensor which translates the vibration of a series of tines into the musical signal that drives the input to the preamp.
The dual preamp allows the end user to select between a low-noise, low-distortion Texas Instruments OPA1652 for a pristine, hi-fidelity sound or a 12AU7 vacuum tube if you are looking for a darker, richer sound laden with harmonics. There are trim-pots that allow the end user to fine tune the harmonic content in the tube circuit.
There is a tremolo circuit based on the THAT Corp. 2181, a VCA driven by a sine wave LFO that is user adjustable from 1.5Hz to 15Hz. The user can also default to the standard Wurlitzer 5.7Hz tremolo rate by actuating the push-push switch built into the tremolo pot.
There is an auxiliary output using another OPA 1652 that can be used to drive an external amplifier.
The power to drive the onboard speaker is provided by a Texas Instruments TPA3118 Class D amplifier capable of delivering 42 watts into an 8 Ohm load at 0.06% THD.
All outputs are protected from turn-on/off noise by a muting relay.
Thank you Kevin Beller for your contribution to this Red Hot PCB article!
Did you find this post interesting or helpful? Let us know in the comments below.
Engineers are drowning in administrative tasks.
Modernize how you build electronics with the MacroFab Platform.
About MacroFab
MacroFab offers comprehensive manufacturing solutions, from your smallest prototyping orders to your largest production needs. Our factory network locations are strategically located across North America, ensuring that we have the flexibility to provide capacity when and where you need it most.
Experience the future of EMS manufacturing with our state-of-the-art technology platform and cutting-edge digital supply chain solutions. At MacroFab, we ensure that your electronics are produced faster, more efficiently, and with fewer logistic problems than ever before.
Take advantage of AI-enabled sourcing opportunities and employ expert teams who are connected through a user-friendly technology platform. Discover how streamlined electronics manufacturing can benefit your business by contacting us today.