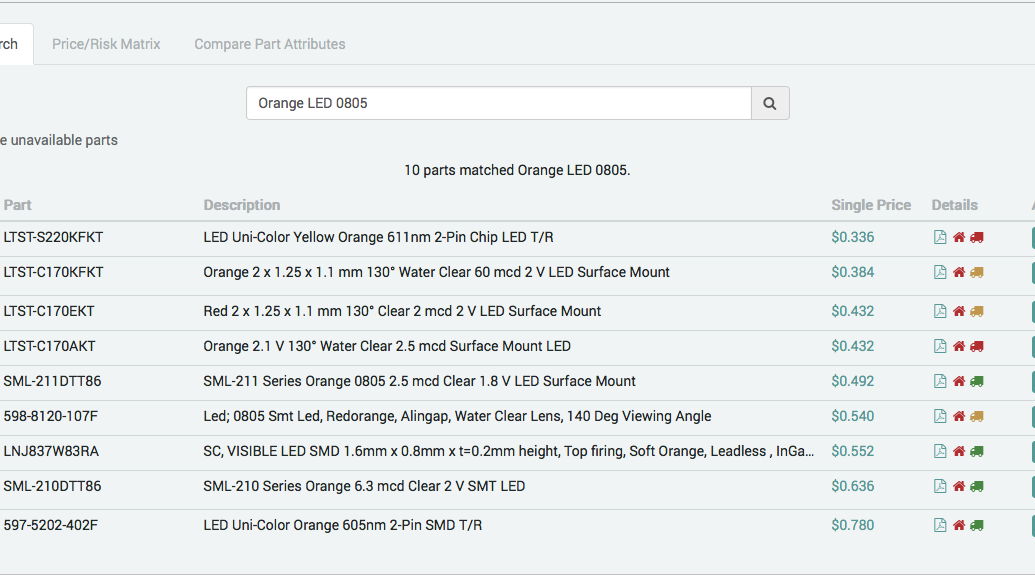 Selecting the right components for your product is a critical step in the manufacturing process. Often, decisions about components are based on their immediate availability and competitive pricing, especially in lower volumes. However, these initial choices may not always prove fruitful when you're looking to scale up production.
Investing in large quantities of a component during the prototype phase, lured by the promise of volume discounts, could lead to unnecessary capital expenditure. If subsequent design changes render this component obsolete, you might end up with surplus stock and potential financial losses.
To address these challenges, we have enhanced our technology-enabled platform with two robust tools: the Price/Risk Matrix and the Compare Parts Attributes tool. Both are integrated within the Bill of Materials view, streamlining your component decision-making process.
Previously, when you searched for a part – say an orange LED – you'd see a list showcasing part numbers, prices, and descriptions.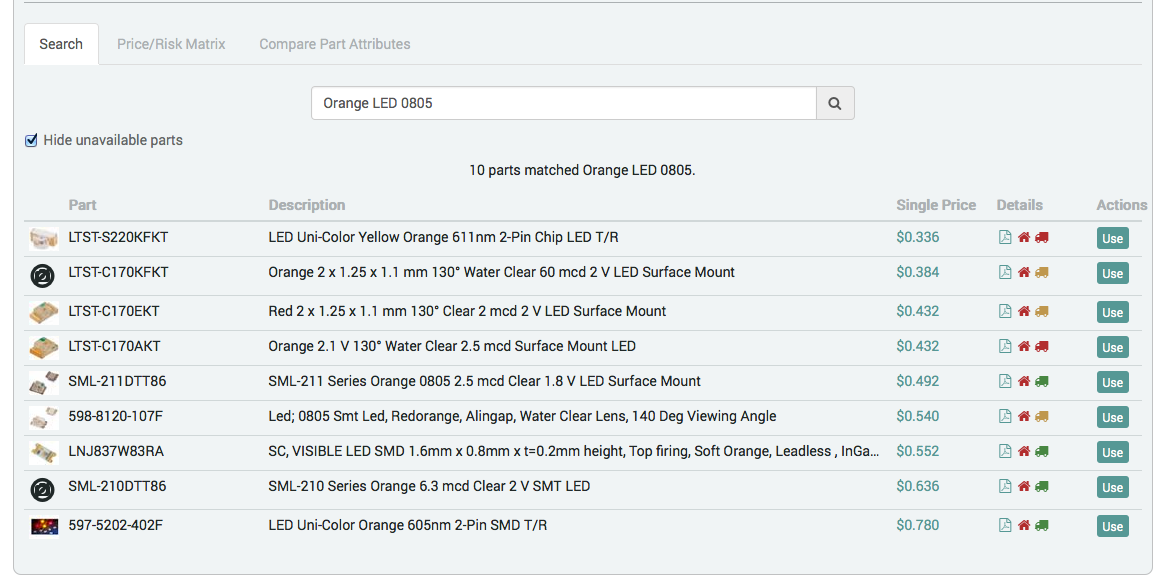 This provided a basic understanding but didn't offer comprehensive insights required for strategic, long-term decisions.
The Price/Risk Matrix revolutionizes this by providing a consolidated view of several vital data points:
•Market Availability: Understand how readily available a component is in the market.
•Replenishment: Gauge how quickly a component can be restocked.
•Life-cycle: Get insights into the expected lifespan of a component.
•Component Cost: Know the cost of the component itself.
•Labor Cost: Factor in the labor cost associated with the component.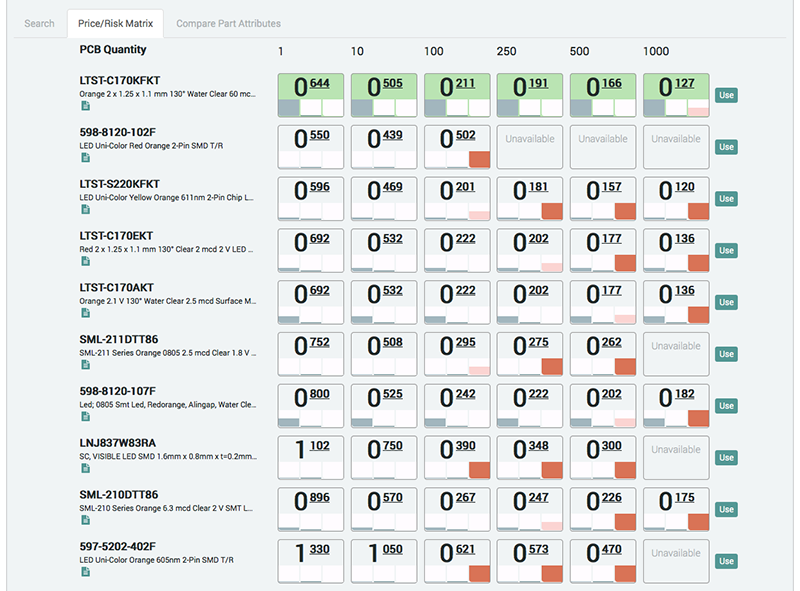 All of these factors are laid out across different production volumes, making it easier for manufacturers to make decisions based on volume forecasts. The matrix also pinpoints the most strategic component choices at varying assembly volumes, considering a blend of availability, risk, and price. For a granular understanding, simply hover over each data point to view detailed information.
However, no matter how favorable the price or abundant the availability, a component is of no use if it doesn't fit your exact specifications. That's where the Attribute Comparison tool steps in. This tool provides a side-by-side comparison of the most prevalent attributes across all potential components. By using it, manufacturers can align component properties with their precise design requirements, ensuring that every choice is not only cost-effective but also technically compatible.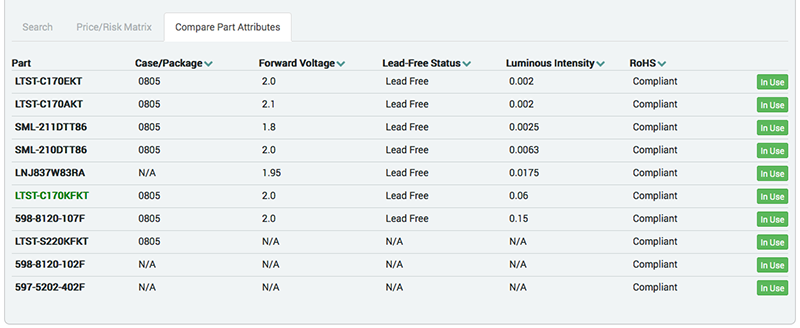 In the evolving landscape of technology-enabled electronics manufacturing, making informed decisions is paramount. Our platform is continuously refined, ensuring that our users have the tools they need to optimize every aspect of their PCBA manufacturing processes.
For further inquiries, feedback, or questions about these tools or any other features, please reach out to us. We are committed to your success and value your input.
Engineers are drowning in administrative tasks.
Modernize how you build electronics with the MacroFab Platform.
About MacroFab
MacroFab offers comprehensive manufacturing solutions, from your smallest prototyping orders to your largest production needs. Our factory network locations are strategically located across North America, ensuring that we have the flexibility to provide capacity when and where you need it most.
Experience the future of EMS manufacturing with our state-of-the-art technology platform and cutting-edge digital supply chain solutions. At MacroFab, we ensure that your electronics are produced faster, more efficiently, and with fewer logistic problems than ever before.
Take advantage of AI-enabled sourcing opportunities and employ expert teams who are connected through a user-friendly technology platform. Discover how streamlined electronics manufacturing can benefit your business by contacting us today.