About This Webinar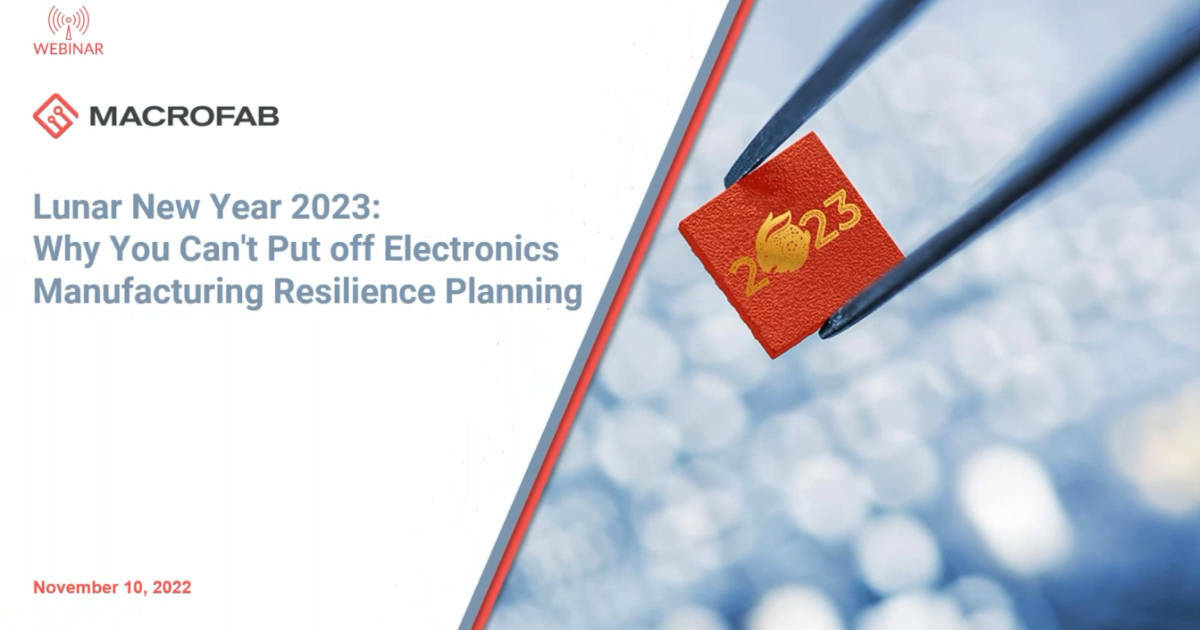 Lunar New Year celebrations begin on January 22, 2023. Globally, this is the largest annual human migration event on the planet, and with it begins a long stretch of electronics manufacturing disruption across Asian nations.
Because electronic components are sourced worldwide, this event has an impact on manufacturing everywhere. Be prepared for disruptions to your manufacturing process regardless of where you manufacture by understanding how closures may change sourcing, logistics, and capacity around the globe.
This webinar will touch on many important topics including:
What Lunar New Year is, its significance, and its effects
Discussion of the direct effects on Asian manufacturing and the indirect effects on manufacturing production worldwide
How to prepare for this event and what you should do now to minimize its impact through proactive manufacturing resilience planning
Register to Watch
Complete the form below to watch the On-Demand Webinar.
About MacroFab
MacroFab offers comprehensive manufacturing solutions, from your smallest prototyping orders to your largest production needs. Our factory network locations are strategically located across North America, ensuring that we have the flexibility to provide capacity when and where you need it most.
Experience the future of EMS manufacturing with our state-of-the-art technology platform and cutting-edge digital supply chain solutions. At MacroFab, we ensure that your electronics are produced faster, more efficiently, and with fewer logistic problems than ever before.
Take advantage of AI-enabled sourcing opportunities and employ expert teams who are connected through a user-friendly technology platform. Discover how streamlined electronics manufacturing can benefit your business by contacting us today.