Related Topics
In times of economic uncertainty, it is more important than ever for OEMs to adopt resilient practices to weather the coming storm.
Other Resources
August 15, 2023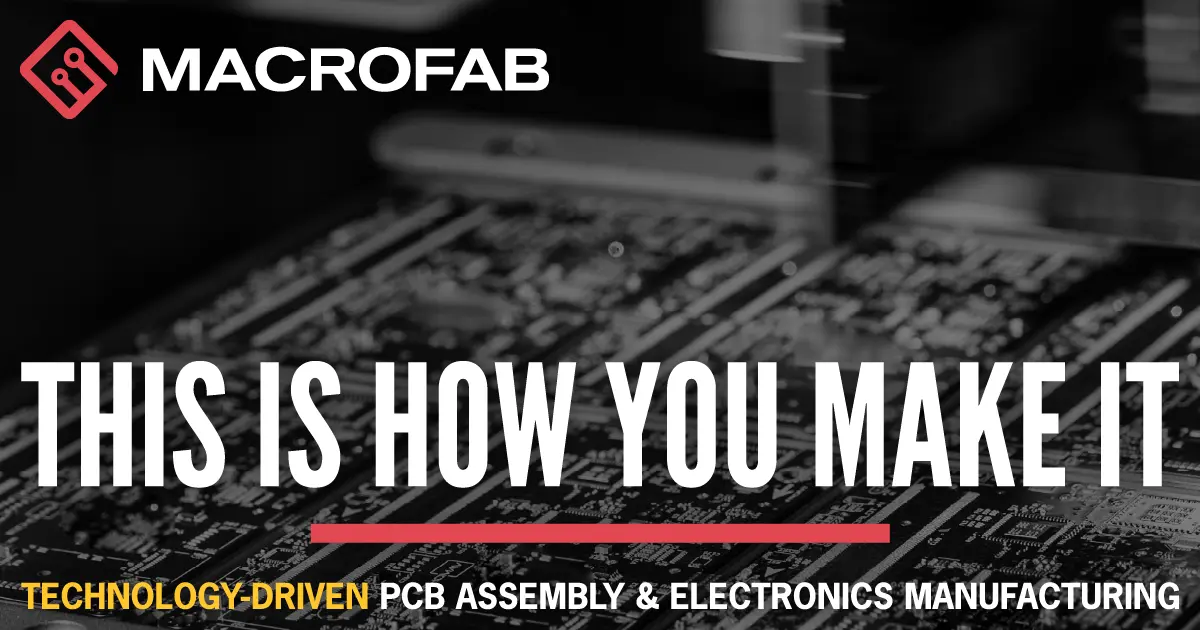 HOUSTON. August 15, 2023 - MacroFab, the comprehensive platform for manufacturing electronics from prototypes to high-scale production, employing a network of over 100 factories throughout North America, announced today two new financial agreements to bolster the company's ongoing growth. This development comes as reshoring maintains its momentum in the manufacturing sector.
Specifically, MacroFab has secured $20 million in growth capital for a four-year term from Trinity Capital, Inc. (NASDAQ:TRIN). These funds will replace shorter duration existing debt funding; the longer tenor will advance the Company's growth trajectory as it continues to support the ongoing relocation of critical manufacturing operations back to North America. Trinity Capital is a leading provider of diversified financial solutions to growth-stage companies.
In addition, MacroFab has secured a revolving credit facility with Pacific Western Bancorp (NASDAQ:PACW) ("PacWest") for working capital sized at an amount up to a maximum of $10 million. This lower-cost capital, when drawn, will help accelerate the Company's growth at the forefront of enabling companies to overhaul their global supply chains and modernize their electronics manufacturing. PacWest focuses on providing business banking and treasury management services to small, middle-market and venture-backed businesses such as MacroFab.
"These new financial partnerships signify a bright and promising future for MacroFab," said Phil Patman, Jr. MacroFab's Chief Financial Officer. "With support from Trinity Capital and PacWest, we will continue to strengthen our position in the market and enhance our capacity to deliver cutting-edge solutions to electronics manufacturers of all sizes. Together, we are well-equipped to navigate the challenges of today's business landscape and drive transformative change within the electronics manufacturing industry."
MacroFab has built a technology platform that connects thousands of businesses directly to the manufacturing floor. The Company's software and tools are reshaping the $440 billion contract electronics manufacturing market by giving customers greater access and control over the manufacturing process with unparalleled visibility into their production.
"We are excited to partner with the team at MacroFab as they continue to push the boundaries of what's possible in the electronics manufacturing sector," said Ryan Thompson, Managing Director, Tech Lending at Trinity. "We look forward to supporting them as they lead the way in advanced onshore manufacturing. With all their locations in North America, MacroFab is well-positioned to benefit from the macro trend of manufacturing growth in the U.S."
In January 2023, MacroFab announced $42 million in new growth capital. The funding was led by Foundry and joined by BMW i Ventures, as well as existing investors Edison Partners and ATX Venture Partners. MacroFab has raised a total of $102M enabling the company's accelerated growth amid the ongoing transformation of global supply chains.
About MacroFab
MacroFab operates the largest technology platform for electronics manufacturing, offering prototypes, high-volume production, and extended services through a network of over 100 factories across North America. Serving as a trailblazer in EMS manufacturing and digital supply chain solutions, MacroFab's robust platform and marketplace foster efficient and expedient electronics production, bringing manufacturing closer to the end user. By leveraging AI-enabled sourcing opportunities, expert internal teams, and a user-friendly platform, MacroFab delivers unmatched efficiency and accessibility to the hardware tech community.
Media Contact:
Kim Schaefer, Account Supervisor
Warner Communications
kim@warnerpr.com
702.326.6750