Related Topics
In times of economic uncertainty, it is more important than ever for OEMs to adopt resilient practices to weather the coming storm.
Mounting holes are useful for attaching PCBs to enclosures and other flat surfaces. Here are some things to watch out for when using them.
This article will cover the hardware aspect of using the EFM8 series of microcontrollers from Silicon Labs.
Other Resources
September 1, 2021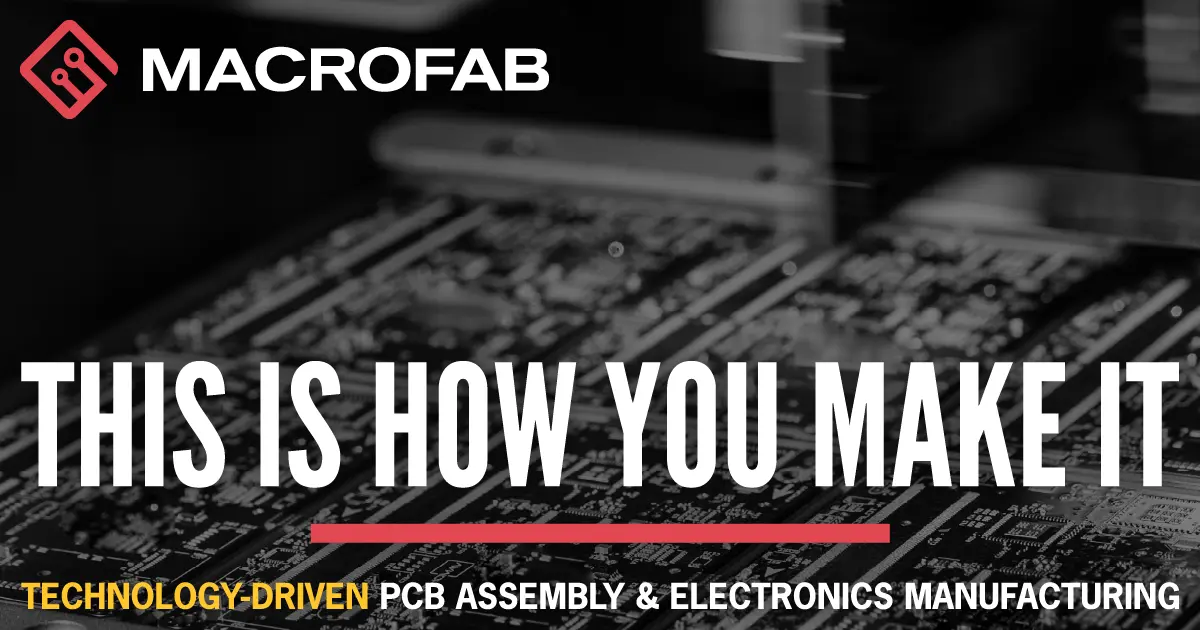 HOUSTON, TX (September 1, 2021) – MacroFab, a digital platform for electronics manufacturing from design stages to prototype and commercial production, today announced the appointment of three new independent directors with extensive experience in the electronics supply chain industry. The executives from Flex, Silicon Labs and TTI will provide insights and help propel MacroFab's growth as the company continues to rapidly expand its customer base and digital manufacturing production capacity in North America.
MacroFab recently announced a $15M Series-B round led by Edison Partners with strategic participation by Altium Limited. With the appointments of three new independent directors, the company's board has 7 members covering a wide range of financial and industry expertise.
"Gus Shahin, John Hollister, and Michael Knight bring deep insight into MacroFab's clients and capabilities. Our new Directors will enhance our Board through their experience in the electronics industry," said Misha Govshteyn, CEO of MacroFab. "These leaders are excited to join the MacroFab board to help build a growing digital manufacturing ecosystem."
Joining the MacroFab Board effective immediately are:
Gus Shahin, CIO at Flex LTD and President of FBS and GBS
Gus Shahin is the Chief Information Officer & President of Flex Business Systems and Global Business Services at Flex, the manufacturing partner of choice that helps a diverse customer base design and build products that improve the world. Mr. Shahin drives Flex's worldwide IT strategy and deployment of agile, scalable, end-to-end systems and tools enabling seamless collaboration, pricing, contract management and planning solutions. In his role, he also oversees the business process excellence and global business services organizations. His teams are focused on delivering innovative IT solutions for all Flex business units and manufacturing sites including artificial intelligence (AI), augmented and virtual reality (AR/VR) and industry 4.0 technologies.
John Hollister, CFO at Silicon Labs
John Hollister serves as Chief Financial Officer and Senior Vice President of Silicon Labs, helping to lead the company's growth in the broad-based semiconductor and Internet of Things (IoT) markets. John joined Silicon Labs in 2004 and held a variety of key financial management positions until 2007 when he became Managing Director of Silicon Labs' Asia Operations, based in Singapore, where he handled global supply chain management during a period of rapid growth overseas. Prior to joining Silicon Labs, John served as Vice President of Finance at Cicada Semiconductor and held various finance positions at Cirrus Logic, Veritas DGC, 3-D Geophysical, and PricewaterhouseCoopers LLP.
Michael Knight, President at TTI Semiconductor
Michael Knight is the President of the Exponential Technology Group and SVP of Corporate Business Development at TTI Inc, a multibillion-dollar global distributor of electronic components and services and a subsidiary of Berkshire Hathaway. Knight has spent over 30 years working in all facets of the electronic component supply chain – distribution to component manufacturing, start-ups to global public companies, connectors to semiconductors – in roles ranging from sales and marketing to general management. For the past 15 years, he has been part of the team at TTI, Inc.
"MacroFab has an excellent integrated design, quote and build process using a digital manufacturing platform to provide control, visibility and transparency." said Gus Shahin of Flex LDT "These capabilities are key to realizing the benefits of Industry 4.0 and sets the foundation for the future of manufacturing."
"The global supply chain is as important as ever, particularly as industries around the world are adopting new technologies to drive their business. MacroFab's leading digital manufacturing platform is critical to helping its customers secure their build plans and improve time to market." added John Hollister. Michael Knight of Silicon Labs continued, "MacroFab has an impressive record of innovation and highly engaged employees. I look forward to lending my experience in semiconductor and electronics components distribution to continue focusing on building an industry leader."
About MacroFab
MacroFab operates the largest digital platform for electronics manufacturing from prototype to high scale production, with a network of 75+ factories across North America. The MacroFab platform enables customers to produce electronics products faster, more cost effectively and closer to their end users in factories located across US, Canada and Mexico, while leveraging MacroFab's global supply chain and quality control capabilities. The company is headquartered in Houston, TX.