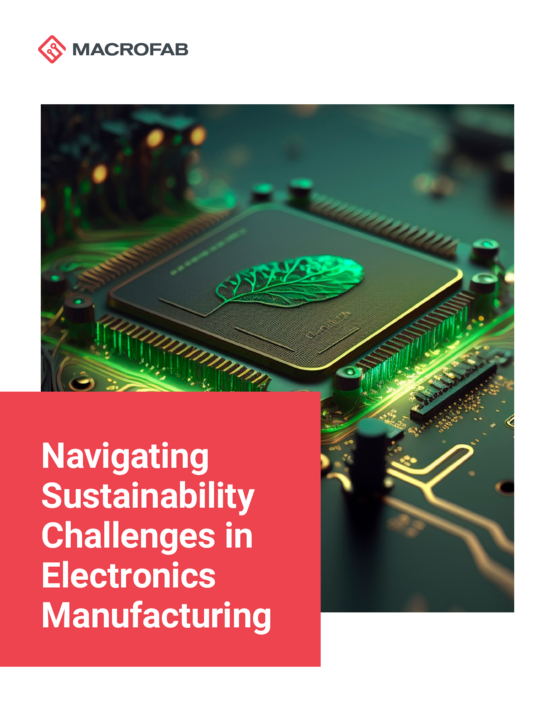 Poorly regulated PCBA manufacturing can contribute to environmental damage, including ozone depletion, freshwater contamination, and algal dead zones. It's time to change that. As we move towards a net-zero economy, collaborating with other businesses is essential to effectively manage risks and seize opportunities.
As a part of the complex electronic products industry, you have a unique opportunity to lead the way in sustainability at all levels of PCBA production. By engaging stakeholders and implementing transparent communication, your company can minimize its ecological footprint while unlocking new growth opportunities.
In this ebook you will learn:
The importance of sustainable PCBA design practices in reducing the overall impact of electronics manufacturing on the environment, including adopting thoughtful design practices, utilizing eco-friendly materials, and reducing energy consumption–while also reducing costs and giving your organization a competitive advantage. The role of conflict mineral regulations in ensuring responsible sourcing practices, and how ethical sourcing can positively impact your company's reputation and make it more attractive to end users.
How to optimize PCB layouts to minimize energy losses due to trace resistance and parasitic capacitance, including using thicker traces for high-current paths, minimizing trace lengths, and implementing proper thermal management through the use of heat sinks, thermal vias, and appropriate component placement.
The importance of water conservation in PCBA manufacturing, how the US Clean Water Act impacts the industry, and how the APAC region's water laws compare to those in the USA.
The benefits and potential drawbacks of purchasing carbon offset credits, including their role in reducing greenhouse gas emissions, how they may enhance a company's reputation while meeting regulatory requirements, as well as their potential cost, effectiveness, and impact on public perception.
The SEC's proposed climate disclosure rule and its implications for companies of all sizes, as well as the need for companies to begin planning for this change by identifying, managing, and disclosing physical and transitional climate-related risks in conjunction with transition plans for a sustainable future.
By adopting sustainable practices in your PCBAs manufacturing process, you can differentiate your company in a highly competitive market, position your brand as a leader in the industry, and meet the growing expectations of eco-conscious consumers who demand environmentally responsible products. This will pave the way for development and expansion in a world that prioritizes sustainable development, allowing innovation and growth under sustainable conditions.
Register to Download
To download this document, please complete the form below.
What It Is
An exploration of sustainable practices that can help the electronics industry grow and succeed as the world moves toward net zero.
Who It's For
Anyone in the industry
How To Use It
Discover how to minimize your company's ecological footprint, differentiate yourself in a highly competitive market, and position yourself as a leader while delivering innovative, sustainable practices that meet the growing demands of eco-conscious customers.