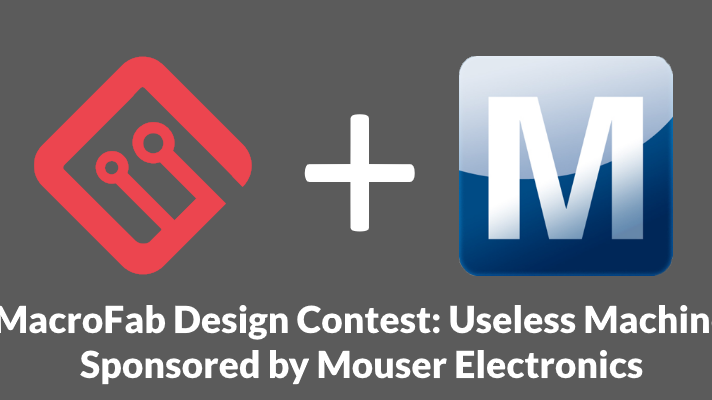 MacroFab Blog
MacroFab Design Contest: Useless Machine Sponsored by Mouser Electronics
Related Topics
Today we have the contest results for the MacroFab Design Contest: Useless Machine Sponsored by Mouser Electronics! Thank you to our judges for there time!
Other Resources
Welcome to the MacroFab "Useless Machine" Challenge, sponsored by Mouser Electronics. The contest is all about creating the most useless machine – we want to see some amazing useless machines and for you to document it all. Include lessons learned during experimentation, design challenges, and more. You need to build something that is completely useless to society. How you design, power it, and program (or not) it is entirely up to you.
You can do this in several different ways, here are some examples:
A device that sends tweets of the temperature of mars for tourists
A clock that isnt even right twice a day
GPS that tells you where the furthest bathroom from you is
Kids Toy where a button press makes an animal noise but none of the sounds are right: The cow says woof
We will also have guest judges to determine the fate of the contestants. Judges will be announced via social media. Be sure to follow @MacroFab & @MouserElec for more information as it becomes available.
We Have Four Prizes
Projects Picked by our Judges

First place: $1,000
Second place: $500
Third place: $250

MacroFab Engineering Podcast Favorite: Stephen and Parker pick their favorite project on the podcast

$1,000 Cash Prize
A Useless Trophy
How to Enter your Useless Project
Build an electronic project that is useless
Document it as a new project on Hackaday.io
Tag it with MacroFab Design Contest: Useless Machine
Contest Rules
Contest runs 8 AM CST June 1st, 2019 through 8 AM CST August 10, 2019
Project must be documented and submitted through Hackaday.io
Source code, schematics, and board layouts for the project must be either posted in the files section, or in a public repository such as GitHub.
People should be able to replicate the project with given documentation.
All entries will be judged by judges appointed by MacroFab, TBD
MacroFab, Mouser Electronics, and Judges or the family of any of the preceding are not eligible to take part in this contest. Everyone is still encouraged to build awesome stuff and show it off.
No age limit.
How The Judges Will Rate ContestantS Projects
How interesting is the entry?
How well is the project documented? Are the description, details, instructions, components and build instruction filled out?
Does it work? Upload a video of your working entry.
Judges pick their top three (3) projects and rank them from.

Top project for each judge gets 3 points.
Second project for each judge gets 2 points.
Third project for each judge gets 1 point.

The projects are ranked by the number of points scored.
The MacroFab Engineering Podcasts favorite will be chosen by hosts Parker and Stephen.
Make sure your project on Hackaday.io has the correct tag so we can find it when the contest ends! Here is an example project. Parker and Stephen will be discussing entries in the contest while the contest is running so stay tuned to the MacroFab Engineering Podcast. To keep up to date on the contest follow the MacroFab twitter feed and the MacroFab blog.
Engineers are drowning in administrative tasks.
Modernize how you build electronics with the MacroFab Platform.
Related Blog Posts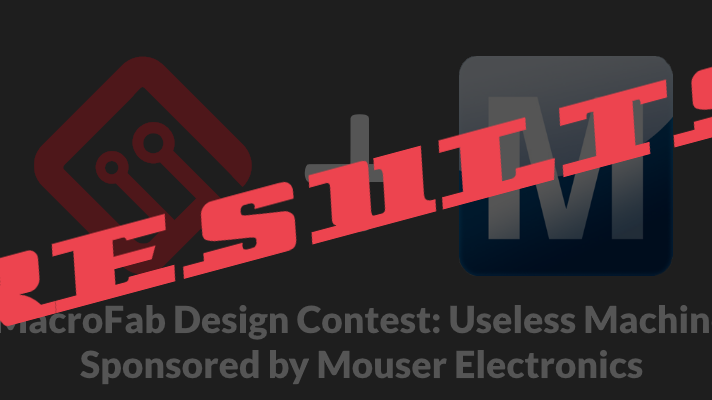 Today we have the contest results for the MacroFab Design Contest: Useless Machine Sponsored by Mouser Electronics! Thank you to our judges for there time!
About MacroFab
MacroFab offers comprehensive manufacturing solutions, from your smallest prototyping orders to your largest production needs. Our factory network locations are strategically located across North America, ensuring that we have the flexibility to provide capacity when and where you need it most.
Experience the future of EMS manufacturing with our state-of-the-art technology platform and cutting-edge digital supply chain solutions. At MacroFab, we ensure that your electronics are produced faster, more efficiently, and with fewer logistic problems than ever before.
Take advantage of AI-enabled sourcing opportunities and employ expert teams who are connected through a user-friendly technology platform. Discover how streamlined electronics manufacturing can benefit your business by contacting us today.