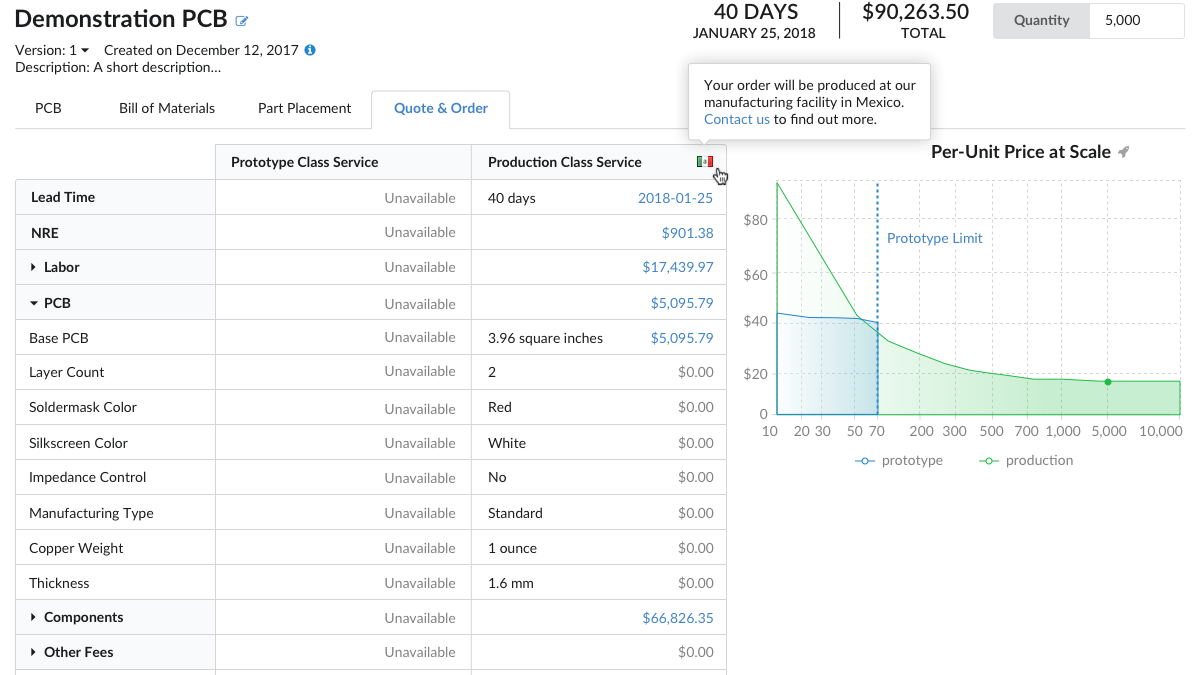 We've created a new, dedicated, PCB assembly instant quote interface to give you more options based on your project's specifications. New service levels, for lowest-cost prototypes and full-featured designs, give you more control over your project and can be compared side-by-side. Planning just got even easier through a quick visualization tool that shows you the price for each service class at different volumes.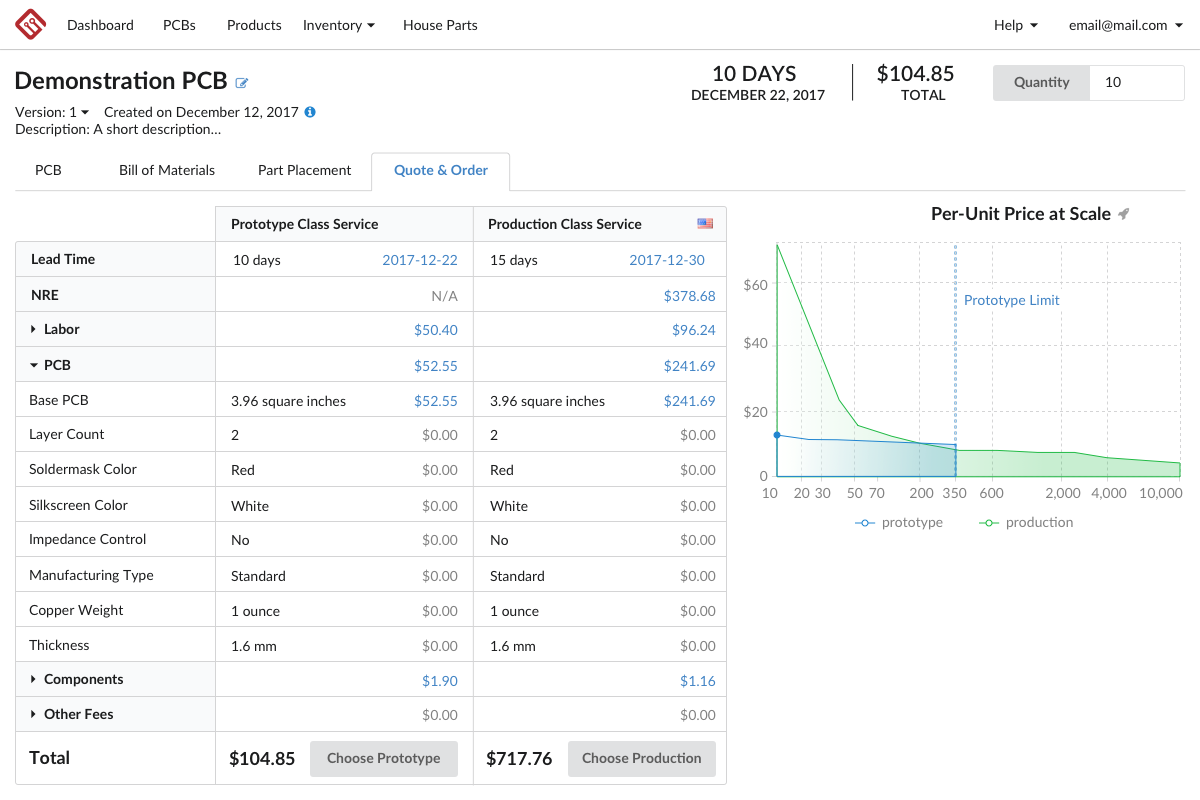 We are excited to announce our 10-day turnaround option for the Prototype Class Service. Now you'll be able to iterate on your designs and perfect your prototype faster through MacroFab. These updates to the quoting screen will provide more clarity into what specs influence pricing, giving you greater control over your project, large or small.
Prototype Class Service
For low-volume and prototype orders where the price is most important, the Prototype Class Service allows you to take advantage of the great savings on low-volume orders you've come to expect from MacroFab. Our unique platform enables us to combine orders from many customers in-real time, sharing the production costs and eliminating NRE on very low-volume orders. The Prototype Class Service offers a more basic list of options, which allows us to pass on savings to our prototype customers. Some of the default specs include:
2 or 4 layers
Red solder mask and white silkscreen
Preferred vendor components
Components which are currently available on the market
Lower production volumes
Production Class Service
For those customers with production level quantities or orders with custom requirements, the Production Class Service is designed to meet your needs, giving you flexibility and low minimum costs, while enabling easy scaling to high volumes through our international manufacturing capacity. Additional capabilities of this service class include:
Consignment materials
Parts not available from our preferred distributors
Order materials with lead times
Customize all PCB attributes
Low-Cost international manufacturing for higher-volume orders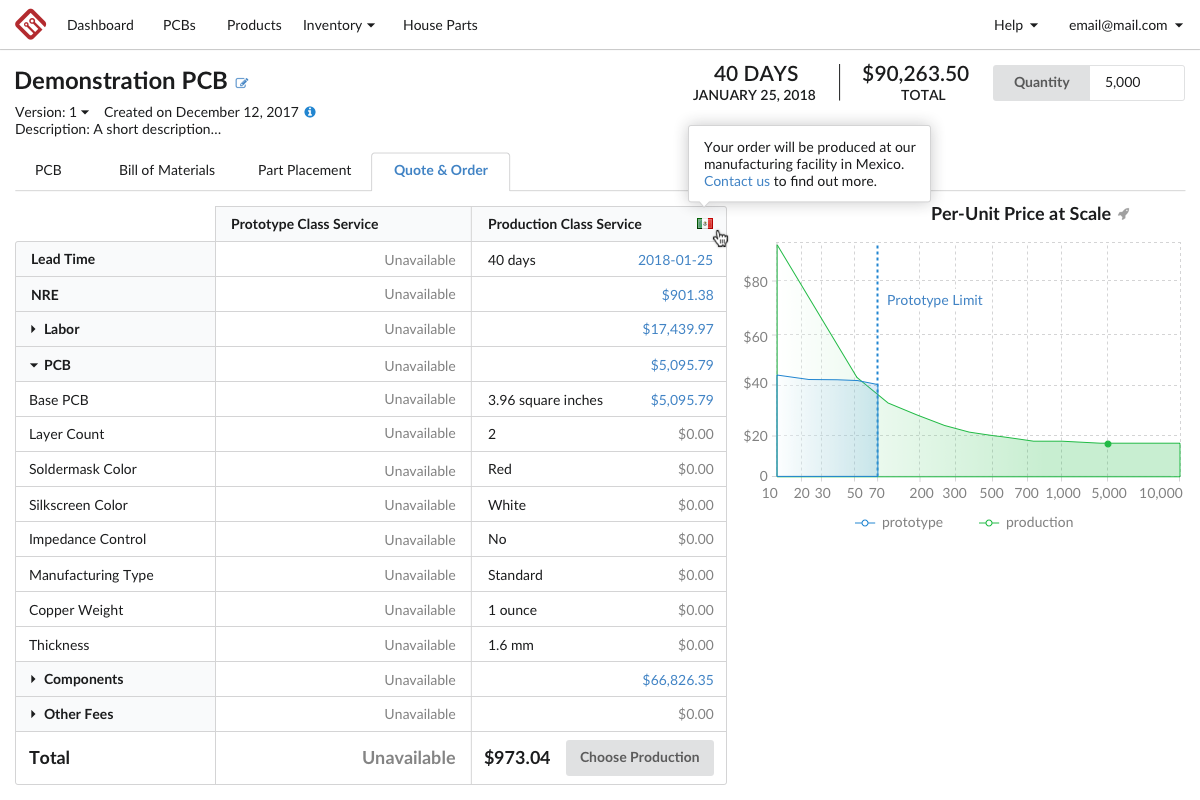 Our platform will automatically update both Prototype and Production class service pricing based on your design and BOM. We will clearly show you the price breakdown for each service type so you can select which option best suits your needs.
10-day turnaround
We are excited to announce that we now offer 10-day Prototype Class turnaround for qualifying orders. For orders that meet the 10-day requirements, a notification will appear on the quoting screen and the shorter lead-time will be displayed. Here's a list of what types of orders can be produced using our 10-day turn time:
Have no more than 50 units
Have fewer than 2,000 surface-mount placements (SMT)
Have fewer than 20 unique SMT line items
No through-hole placements
Redefining electronics manufacturing
MacroFab is redefining the electronics manufacturing experience from a manual, time-intensive, and error-prone process performed by large teams of people, into a real-time, streamlined, and connected software-driven experience. With our globally competitive prices available instantly, and an interface that provides more information in a clearer format, it's now easier than ever for you to take control of your projects.
For any questions or comments regarding these updates, please emailsupport@macrofab.com
Engineers are drowning in administrative tasks.
Modernize how you build electronics with the MacroFab Platform.
About MacroFab
MacroFab offers comprehensive manufacturing solutions, from your smallest prototyping orders to your largest production needs. Our factory network locations are strategically located across North America, ensuring that we have the flexibility to provide capacity when and where you need it most.
Experience the future of EMS manufacturing with our state-of-the-art technology platform and cutting-edge digital supply chain solutions. At MacroFab, we ensure that your electronics are produced faster, more efficiently, and with fewer logistic problems than ever before.
Take advantage of AI-enabled sourcing opportunities and employ expert teams who are connected through a user-friendly technology platform. Discover how streamlined electronics manufacturing can benefit your business by contacting us today.