Uncover the Advantages of Reshoring Your Electronics Production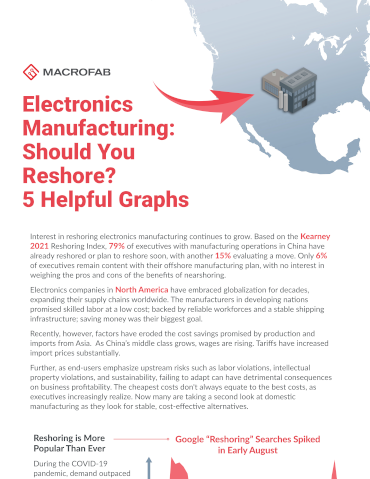 Discover the benefits of reshoring your electronics manufacturing with our informative infographic. Inside, you'll find five helpful graphs that will give you a clear understanding of the current trends and advantages of reshoring.
Learn about the growing popularity of reshoring and why more companies are choosing to bring their manufacturing back to the US.
Compare labor rates in China and Mexico to see how they stack up against each other Examine shipping rate trends and how they may impact your bottom line.
Understand the impact of tariffs on your manufacturing costs and how reshoring can help mitigate them.
Discover other advantages of reshoring, such as improved supply chain efficiency and reduced production lead times.
Register to Download
To download this document, please complete the form below.
What It Is
A quick visual introduction to the advantages of reshoring electronics production.
Who It's For
Supply Chain Experts
How To Use It
Visualize current trends quickly