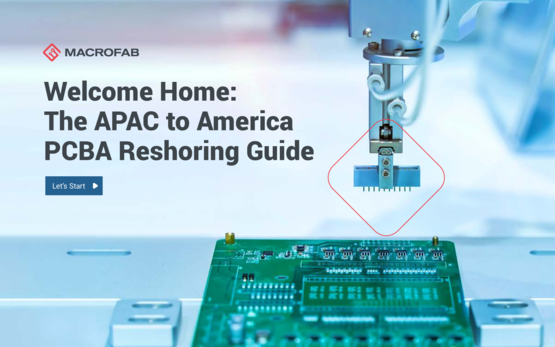 Explore the unprecedented journey of reshoring electronics production to America. Dive into this 34-page guide that unravels the complexities, challenges, and strategies to successfully transition PCBA operations back to the U.S., fostering economic growth and enhancing operational efficiencies.
In this guide, you'll uncover:
Key motivations driving the reshoring trend, unraveling why North American OEMs are reconsidering offshoring.
Insights into the reshoring landscape, revealing why this concept is gaining traction in the electronics industry.
Strategies, considerations, and practical steps to make the reshoring transition smooth and beneficial.
Expert advice on selecting the right electronics contract manufacturing partners and overcoming reshoring hurdles.
Read this guide and gain insight into the path toward a stronger domestic electronics manufacturing industry.
Register to Download
To download this document, please complete the form below.
What It Is
An Insightful guide revealing strategies, challenges, and practical steps to move electronics production to the U.S.
Who It's For
CEOs, business strategists, and decision-makers in electronics manufacturing seeking guidance and strategies on successfully reshoring PCBA production to America.
How To Use It
Gain strategic insights, uncover practical steps, and equip yourself with the knowledge required to navigate the complexities of reshoring electronics production efficiently.