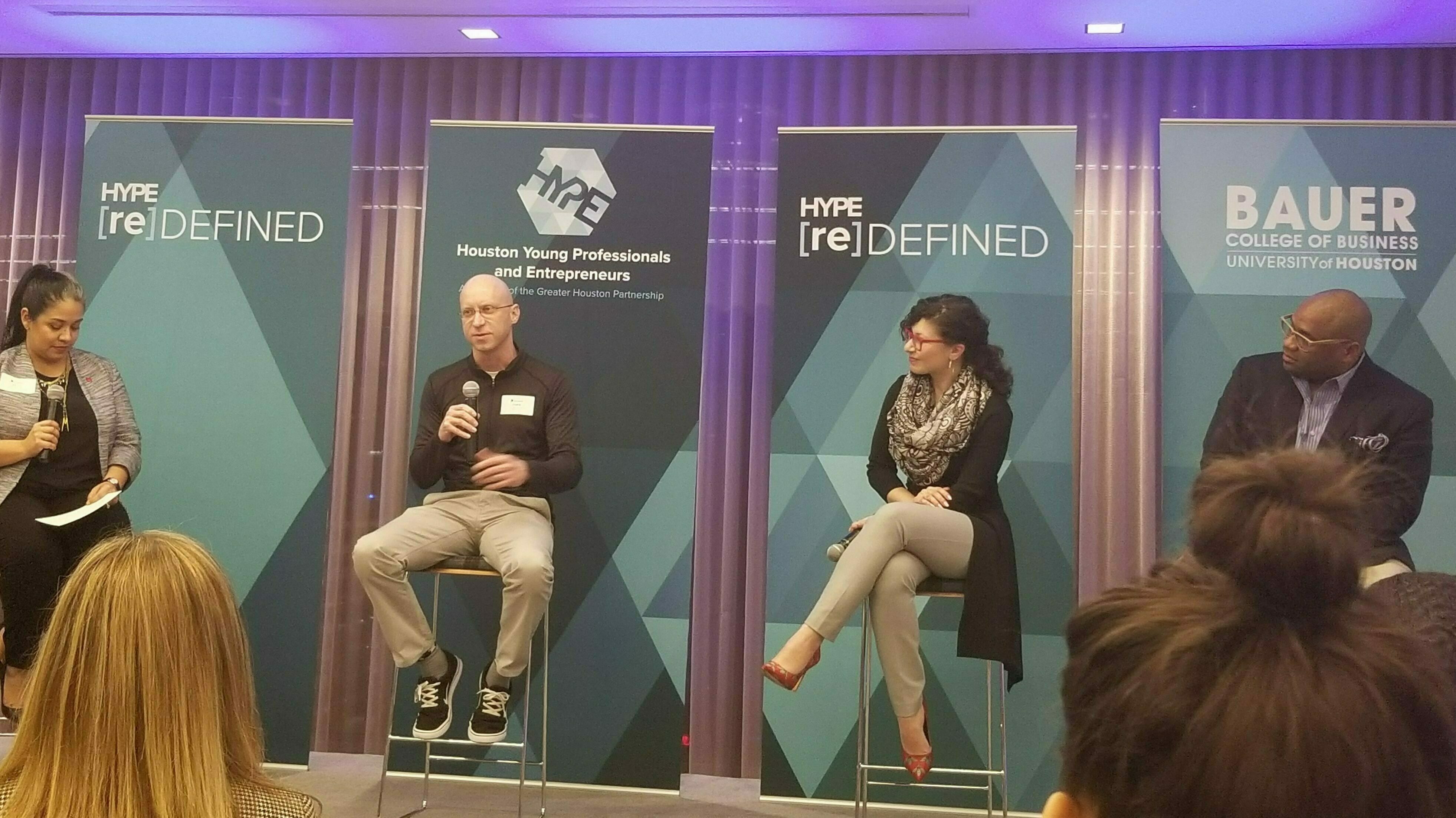 Our fearless MacroFab leader and founder Chris Church spoke at the Greater Houston Partnership's HYPE [re]Defined event (HYPE Event) on Thursday, Feb. 8th.
Houston Young Professionals & Entrepreneurs (HYPE) brought together young professionals and entrepreneurs to engage in the diverse Houston community, learn from amazing entrepreneurs in the innovating startup world, and enjoy some great food. Church shared the stage with Marcus Davis, founder of The Breakfast Klub, and Sahar Paz, Director of Culture at Pink Cilantro.
Church discussed his background and how growing up in a business-minded family led him to create a company that helps its customers build the future through their hardware devices. Having success and sharing that success with the customers is an important aspect to Church's method of running MacroFab. He also shared some wisdom on the motivated and innovative culture he has created at MacroFab:
"For [us] there is no Plan B or Plan C. It's all Plan A. This is what we're doing."
Follow Chris Church on Twitter.
Engineers are drowning in administrative tasks.
Modernize how you build electronics with the MacroFab Platform.
About MacroFab
MacroFab offers comprehensive manufacturing solutions, from your smallest prototyping orders to your largest production needs. Our factory network locations are strategically located across North America, ensuring that we have the flexibility to provide capacity when and where you need it most.
Experience the future of EMS manufacturing with our state-of-the-art technology platform and cutting-edge digital supply chain solutions. At MacroFab, we ensure that your electronics are produced faster, more efficiently, and with fewer logistic problems than ever before.
Take advantage of AI-enabled sourcing opportunities and employ expert teams who are connected through a user-friendly technology platform. Discover how streamlined electronics manufacturing can benefit your business by contacting us today.