About This Webinar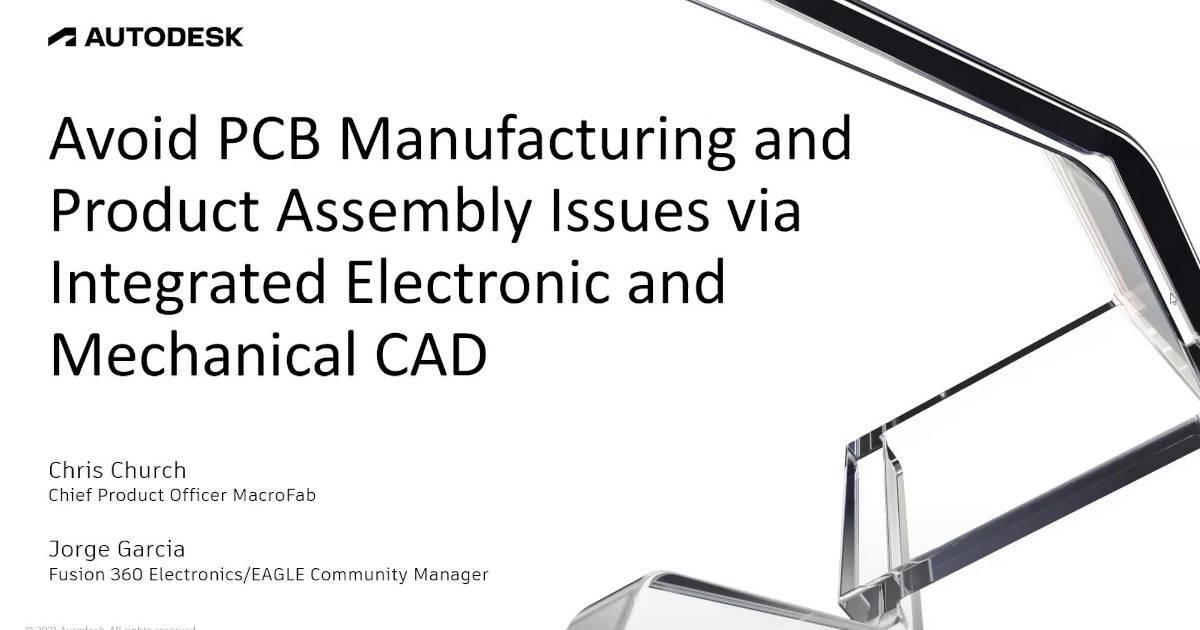 A successful PCB project isn't just about creating a schematic and turning it into a great looking layout. Your PCB design project doesn't end until you receive your board back in its physical form and ensure it has high yield, falls within budget, fits within its enclosure properly and it performs as intended.
That is a lot to get right! The good news?
There are steps you can take to ensure that your PCB will translate seamlessly from a digital design to the physical world of manufacturing. This webinar, hosted in partnership with MacroFab, will focus on best practices and CAD features that can help you design and produce manufacturable boards, eliminate the need for multiple board re-spins and reduce time spent on unnecessary design iterations.
We'll cover: 1. Tips and tricks for designing and producing manufacturable boards 2. How to virtually test how your PCB design will assemble into its enclosure 3. How to snap component positions to match existing geometry in your enclosure 4. How to quickly and easily create accurate 3D models and footprints for your electronics components using Fusion 360's built-in 3D Package Generator 5. How you can leverage MacroFab to manufacture your PCB designs directly from your final Fusion 360 board layout
Register to Watch
Complete the form below to watch the On-Demand Webinar.
About MacroFab
MacroFab offers comprehensive manufacturing solutions, from your smallest prototyping orders to your largest production needs. Our factory network locations are strategically located across North America, ensuring that we have the flexibility to provide capacity when and where you need it most.
Experience the future of EMS manufacturing with our state-of-the-art technology platform and cutting-edge digital supply chain solutions. At MacroFab, we ensure that your electronics are produced faster, more efficiently, and with fewer logistic problems than ever before.
Take advantage of AI-enabled sourcing opportunities and employ expert teams who are connected through a user-friendly technology platform. Discover how streamlined electronics manufacturing can benefit your business by contacting us today.