Related Topics
A well-executed PCBA design, integrating robust security practices, can help safeguard against cybercrime.
The right employees won't show up as if by magic: electronics OEMs and distributors need to make a concerted effort to hire and retain supply chain talent.
We'll examine the underlying reasons behind this surge in prices and provide practical strategies to help you navigate these challenges effectively.
Other Resources
January 18, 2023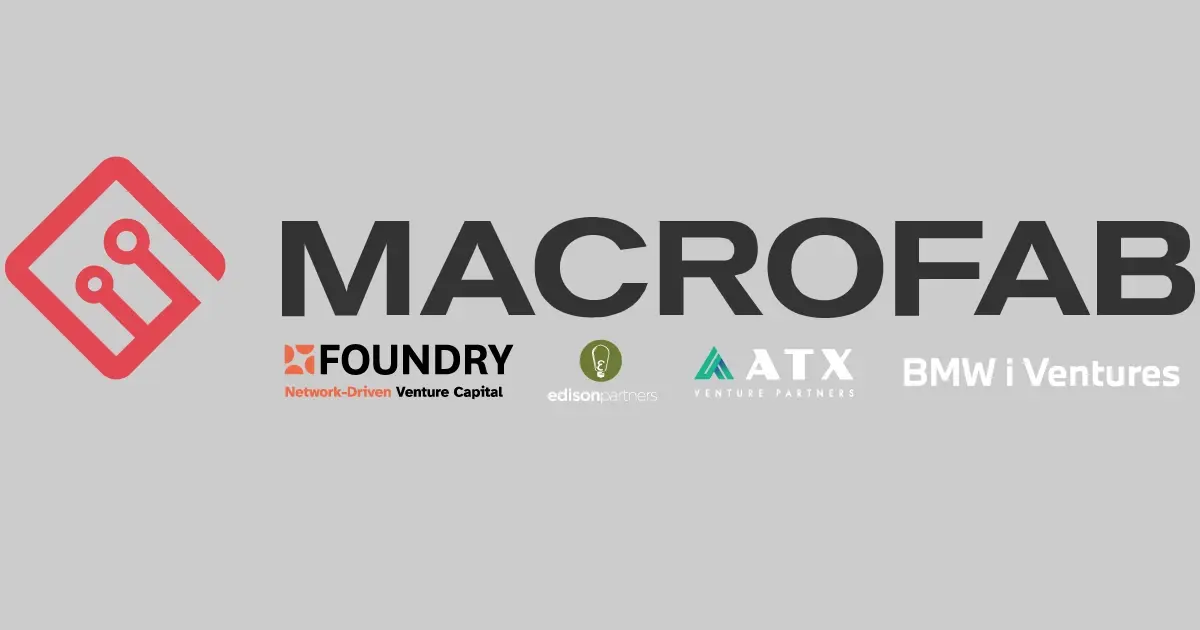 HOUSTON. January 18, 2023 – MacroFab, the cloud manufacturing platform for building electronics from prototype to high-scale production, with a network of more than 100 factories across North America, announced today $42M in new growth capital. The funding was led by Foundry and joined by BMW i Ventures, as well as existing investors Edison Partners and ATX Venture Partners. With this round of financing MacroFab has raised a total of $82M, enabling the company's accelerated growth amid the ongoing transformation of global supply chains.
MacroFab's shipments were up 275% year-over-year, as more companies moved their electronics production to North America. The company has doubled its workforce and opened a new facility in Mexico to help customers manage inventory and reduce the impact of tariffs. As reshoring momentum increases, MacroFab is well positioned at the forefront of enabling companies to overhaul their global supply chains and modernize their electronics manufacturing.
"Electronics manufacturing is moving toward resilience and flexibility to reduce supply chain disruptions. These are long term trends recognized by Foundry and BMW i Ventures, who joined this round as investors," said Misha Govshteyn, MacroFab's Chief Executive Officer. "We are in the earliest stages of repositioning the supply chain to be more localized and focused on what matters to customers most – the ability to deliver product on time, meet changing requirements and achieve a more sustainable ecological footprint. MacroFab is fundamental to building this new operating model."
The platform MacroFab has built helps manage electronics manufacturing and provides customers with unparalleled visibility into their production. Access to real-time supply chain and inventory data puts its customers in control and is key to MacroFab's achieving the best customer satisfaction rates in the industry, with Net Promoter Scores(NPS) remaining above 50 even during historic supply chain disruptions.
"Given MacroFab's compelling solutions to electronics manufacturing challenges and Foundry's successful history with parallel companies, our investment is a perfect fit. This is a unique opportunity to be part of next generation cloud manufacturing and we're excited to be joining forces with Misha and his team," said Foundry Partner Seth Levine. Foundry manages more than $4 billion and has invested in hundreds of companies.
"Most companies have felt the pain of inflexible and fragile supply chains. MacroFab's cloud manufacturing platform is transforming contract manufacturing, enabling 'Made in North America, faster design iteration, and increased supply chain resiliency, among its benefits. Edison Partners shares the company's vision for addressing this $100B+ global market," said Daniel Herscovici, Partner, Edison Partners, a growth equity firm focused on technology-enabled and SaaS solutions.
"MacroFab is on track to continue rapid growth based on the strength of its technology platform, extensive manufacturing network, and seasoned management team. MacroFab is well positioned to serve the most pressing needs of customers focused on modernizing their electronics production," said BMW i Ventures Partner Baris Guzel. BMW I Ventures manages investments in technology companies in the United States, European Union and Israel.
About MacroFab
MacroFab operates the largest technology platform for electronics manufacturing from prototype to high scale production, with a network of 100+ factories across North America. Bringing the future of EMS manufacturing and digital supply chain solutions to its customers, MacroFab's cloud manufacturing platform and marketplace enables production of electronics faster, more efficiently, and closer to end-users than ever before, while leveraging AI-enabled sourcing opportunities, expert internal teams, and an easy-to-use platform.
Media Contact:
Ariane Wolff, Senior Vice President
Warner Communications
ariane@warnerpr.com