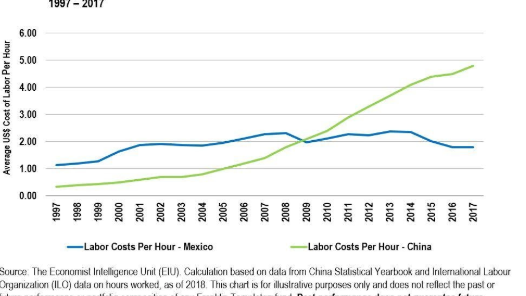 MacroFab Blog
Is Chinese Manufacturing Still the Most Affordable Option?
Published on January 3, 2020
Written by The MacroFab Team
Chinese manufacturing has dominated the past few decades, driven by the offshoring trend from North American markets. Particularly for electronics assembly, this trend has shaped the industry for more than two decades.
Primarily as a result of lower labor wages and decent infrastructure, manufacturing companies moved their operations to Asia or partnered with contract manufacturers working in that region. Businesses that offshored benefitted from significantly lower labor costs and a large labor force that could accommodate the ever-increasing manufacturing demands.
However, in recent years both the demographics and the Chinese economy have changed, impacting the benefit of this old arrangement. Let's observe the disparities between fact and conventional wisdom by comparing China to the growing North American economy of Mexico. The benefits of reshoring back to North America have a new appeal.
Chinese Manufacturing Costs are Changing
The Chinese economy has been expanding with average GDP growth of more than 8% over the past 25 years as seen in Figure 1.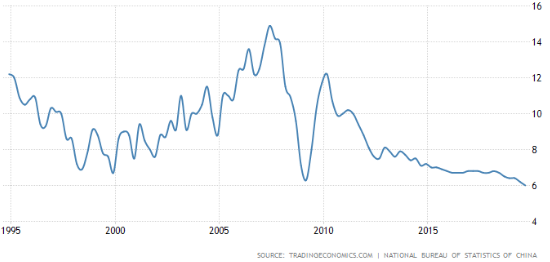 Figure 1 – China Gross Domestic Product Growth (%) vs. Year (tradingeconomics.com)
This economic success has been beneficial for the growing middle-class workforce. As demand for their skills grew over time, so did the hourly wages and the cost of living in large manufacturing cities. This is also due to the appreciation of the Chinese yuan against the US dollar.
What was once a largely unskilled workforce working for a globally low wage base is now significantly more capable. In fact, today's average Chinese worker demands a labor rate nearly 10 times that of 20 years ago. Average annual compounded increases hover at 12% (Stenzel G). While the average hourly labor rate was less than USD $0.50 in 1997, by 2017 it had risen to nearly USD $5.00 and was trending higher as can be seen in Figure 2. This has been a growing trend in surrounding Asian countries, as well.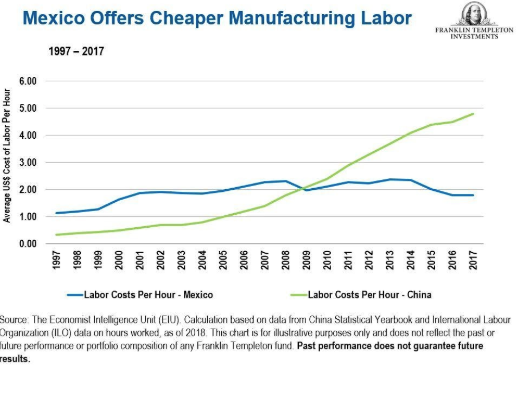 Figure 2 – Mexico vs China Manufacturing Labor vs. Year (Hunkar D)
Mexico Manufacturing vs China
Over the same timeframe, the average hourly manufacturing rate in Mexico has gone from USD $1.20 in 1997 to about USD $2.00 today (Hunkar, D). Mexico's economy has been positioning itself within the North American electronics supply chain for decades.
The country has both a large unskilled and semi-skilled workforce. The technology-laden Baja California state alone boasts nearly 100,000 experienced electronics assembly workers (ivemsa.com).
Many of the largest global electronics companies now operate factories in Mexico. The country is positioned as the 6thlargest global electronics products manufacturer and is the single largest exporter of flat-screen televisions in the world (ivemsa.com).
Mexico's proximity to the United States makes it an attractive location for operations management. The Mexican time zones are the same as American Pacific and Mountain Time zones. Air travel from most of the United States is typically no more than a couple hours in duration. This can minimize travel time, costs, and hassles for US engineering and quality support staff, all secondary but important cost considerations of maintaining manufacturing operations in Mexico.
Non-Labor costs to consider
However, labor costs are only one part of the consideration for the location of your electronics manufacturing strategy. All the other costs of business need to be gauged in relative comparison, including:
Shipping
Timely support
IP protection
Tariffs and customs
The new administration remains uncommitted to any change in existing Chinese trade tariffs. Trade uncertainty appears likely to continue into the foreseeable future. In addition to this increase in costs comes the risk of longer shipping times due to heightened customs scrutiny at ports of entry. Shipping products from China to the US could take an extended time for many months. By comparison, a 48-hour lead-time can be achieved across the Mexican border to customers within the USA (Stanley S).
In addition to the higher transportation costs to ship across the Pacific Ocean, the challenges and costs to manufacture in China may no longer make sense. For example, due to distance and unpredictable oil prices, theshipping costs can be more than 8 times higher when manufacturing in Chinacompared to Mexico.
Mexico vs China Shipping Cost Comparison
In 2018, the cost of shipping a standard cargo container from China to the port of Long Beach was nearly $5,000. The cost of transporting the same container from Tijuana, Mexico to Los Angeles by land was roughly $600 (Stanley S).
Intellectual property (IP) protection should always be a priority across the supply chain. While the protection of IP in Asia can be erratic at best, Mexico practices strong protections and enforcement, similar to the USA, for patents, intellectual property, and trademark rights (Arvilla J). This is key to avoiding quality issues that could impact your reputation with partners and customers.
The raw energy input for operations in Mexico is roughly similar to those in China. While the unregulated electric utilities can be higher in Mexico than those in China, natural gas prices are largely the same as those in the United States. China's natural gas costs are considerably higher at 50 to 170% of the price seen in the USA (Stanley S).
Summary
Unless a company has significant scale, most do not choose to establish their own factory either in China or Mexico. Partnering with a contract manufacturer (CM) with operations in Mexico affords the options needed within a dynamic global economy. Alternatively, a CM that haswide partnerships across many expertise and locations provides the flexibility to manufacture where capabilities, costs, and logistics make the most sense.
Many electronics manufacturing strategies automatically determine that China is the location of choice for their operations due to the lower labor costs. However, after a review of the latest financial data available, we can see that this general assumption, typically from the mid-1990s, no longer applies to 2020 and beyond.
The Chinese manufacturing labor rate continues its >10% annual increase unabated. Working with a CM that has global partnerships, including those with the low costs of Mexico, provides the North American on-shoring manufacturing flexibility that your business needs to adapt to the global economy.
Sources
Stenzel G., 2018Further Reforms Could Lead Latin American Economies to Become Bigger Growth Players
Further Reforms Could Lead Latin American Economies to Become Bigger Growth Players
Arvilla J, 2018Mexico Labor Costs Continue to Benefit Manufacturing
https://www.tecma.com/mexico-labor-costs-2/
Stanley S, 2019Mexico vs. China Manufacturing: How the Two Countries Compare
https://napsintl.com/manufacturing-in-mexico/mexico-vs-china-manufacturing-comparison/
Hunkar, D, 2018Manufacturing Labor Costs in Mexico vs. China
https://topforeignstocks.com/2018/05/12/manufacturing-labor-costs-in-mexico-vs-china/
China GDP Annual Growth Rate
https://tradingeconomics.com/china/gdp-growth-annual
VentureOutsource.comMexico hourly manufacturing wages, labor productivity, electronic industry infrastructure v Asian nations
https://www.ventureoutsource.com/contract-manufacturing/mexico-hourly-manufacturing-wages-labor-productivity-electronic-industry-infrastructure-v-asian-nations/
Mexico's Electronics Manufacturing Industry Is Among World's Largest
https://www.ivemsa.com/industries/electronics-manufacturing-in-mexico/
Engineers are drowning in administrative tasks.
Modernize how you build electronics with the MacroFab Platform.
About MacroFab
MacroFab offers comprehensive manufacturing solutions, from your smallest prototyping orders to your largest production needs. Our factory network locations are strategically located across North America, ensuring that we have the flexibility to provide capacity when and where you need it most.
Experience the future of EMS manufacturing with our state-of-the-art technology platform and cutting-edge digital supply chain solutions. At MacroFab, we ensure that your electronics are produced faster, more efficiently, and with fewer logistic problems than ever before.
Take advantage of AI-enabled sourcing opportunities and employ expert teams who are connected through a user-friendly technology platform. Discover how streamlined electronics manufacturing can benefit your business by contacting us today.